I'm happy to welcome fellow Harper Voyager author A.F.E. Smith to my blog today! Her fantasy novel Darkhaven came out yesterday in ebook and will be in paperback on January 14th 2016. Isn't her cover awesome? Here's a lot more info about the book… as well as a Rafflecopter giveaway and scavenger hunt clue!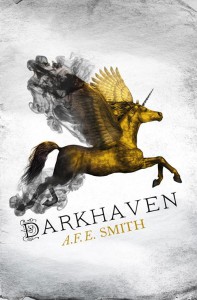 Ayla Nightshade never wanted to rule Darkhaven. But her half-brother Myrren – true heir to the throne – hasn't inherited their family gift, forcing her to take his place.
When this gift leads to Ayla being accused of killing her father, Myrren is the only one to believe her innocent. Does something more sinister than the power to shapeshift lie at the heart of the Nightshade family line?
Now on the run, Ayla must fight to clear her name if she is ever to wear the crown she never wanted and be allowed to return to the home she has always loved.
HarperCollins
Amazon (global link)
Barnes & Noble
Google Play
iBooks
Kobo
Excerpt
Ayla descended a short flight of steps cut into a sheer rock face, and found herself on a ledge overlooking the lower rings of the city. Tiered roofs stretched down and out, red tiles and golden wood and grey-blue slate. She identified the dark smoke rising from the factories, as well as several lighter puffs of steam – travelling fast – which must be the trams that partly circled the lower rings. Even from here, with four rings behind her and only two ahead, the city merged into the horizon. She couldn't make out where Arkannen ended and the rest of Mirrorvale began.
Of course, she had seen the city many times from the air, at night, but the sheer scale of it had never impressed itself upon her as it did now. From above, Arkannen was orderly and structured, seven neat rings descending in sequence. She hadn't realised how much bigger and more complicated it would appear when she was actually in it. It was daunting, but it was also encouraging. As long as she was careful and didn't draw attention to herself, she didn't see how anyone would ever find her.
Dragging herself away from the view, she plunged into the darkness of the narrow passage that cut into the rock behind her. She emerged into a spacious, paved square with various streets and staircases joining it on three sides. On the fourth side stood a high-arched gateway, the sole route into the second ring: the Gate of Wind. Although each of the gates Ayla had passed through so far had been impressive, she thought this one might be the most spectacular of all. The arch was carved from pale, translucent marble, a series of abstract curved shapes swirling around each other like the patterns of the breeze; in every gap hung delicate crystals that tinkled with the slightest movement of the air, so that the gate was never silent. In the centre of the square, a three-bladed sail on a long pole turned with the currents, marking wind speed and direction for the captains of the airships.
None of the other gates had posed a problem, but even so, Ayla pulled her hood forward to hide her face before she joined the workers who were converging on the gate from all directions. It was even busier down here than it had been in the higher rings. An elbow caught her in the ribs; she stumbled, and someone trod on her foot. Then, as she passed under the archway itself in a squeeze of tight-knit crowd, she overheard a snippet of conversation.
'Murdered in his bed … the old Changer …'
In an instant, the press of people around her – their heat and smell – became unbearable. She tried to keep up with the two men who were talking, but they were borne away from her like twigs in the relentless current. The many voices of the crowd became a tumult, a hundred different words competing for attention. Ayla snatched at one sentence, then another, letting each one slip away as she became aware of the next. But she heard nothing more about her father. Perhaps her overwhelmed brain had conjured up a phantom.
---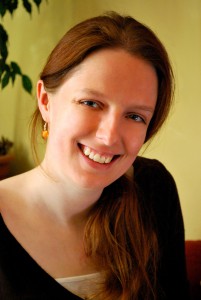 More about A.F.E.:
A.F.E. Smith is an editor of academic texts by day and a fantasy writer by night. So far, she hasn't mixed up the two. She lives with her husband and their two young children in a house that someone built to be as creaky as possible – getting to bed without waking the baby is like crossing a nightingale floor. Though she doesn't have much spare time, she makes space for reading, mainly by not getting enough sleep (she's powered by chocolate). Her physical bookshelves were stacked two deep long ago, so now she's busy filling up her e-reader.
What A.F.E. stands for is a closely guarded secret, but you might get it out of her if you offer her enough snacks.
Website
Facebook
Twitter
DARKHAVEN on Goodreads
---
Scavenger hunt clue: