If you've read some of my short stories and poetry, you've probably noticed I write a lot about the apocalypse. My weird little brain had obsessed about the subject as long as I can remember–the first dream I remember from age three was about the world being destroyed in a flood, and the only safe place was Food King. (That Food King was razed in 2001. My hometown is now doomed.)
Since I already write a lot about the end times, I was really excited to be invited to the A is for Apocalypse anthology. It was the perfect match. I was assigned the letter D.
Here is the awesome cover. The book is set to come out this fall!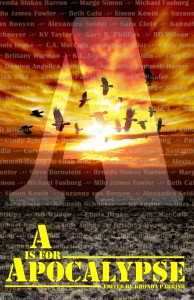 What do you get when you take twenty-six amazing writers, randomly assign them a letter of the alphabet and give them complete artistic freedom within a theme?
A is for Apocalypse
A is for Apocalypse contains twenty-six apocalyptic stories written by both well-known and up-and-coming writers. Monsters, meteors, floods, war–the causes of the apocalypses in these tales are as varied as the stories themselves.
This volume contains work by Ennis Drake, Beth Cato, Kenneth Schneyer, Damien Angelica Walters, K. L. Young, Marge Simon, Milo James Fowler, Simon Kewin, C.S. MacCath, Steve Bornstein and more!
A is for Apocalypse
Edited by Rhonda Parrish
Poise and Pen Publishing
ISBN-13: 978-0993699016
ISBN-10: 0993699014
Cover Designed by Jonathan Parrish
The editor is also hosting a Rafflecopter giveaway for three books! The info on that, from Rhonda:
I'm giving away three ARC copies of A is for Apocalypse (tour-wide). These are physical copies but I am willing to ship them to anywhere in the world. The Rafflecopter draw will run from May 12th to May 19th. On May 20th I will choose three winners and email them in order to get their shipping address. Anyone who doesn't respond by May 27th will forfeit their prize and I will choose a new winner to receive it.
Enter to win!