Halloween is nigh, and with it come sales on sweet things like candy and creepy-dark books! Kobo is currently holding a Buy 2 Get 1 Free Ebook Sale through the 18th that includes the anthology A is for Apocalypse, for which I wrote a story for letter D. The book is packed with some 275 pages of 26 takes on the end of the world.
Check out the sale here, and stock up on some great seasonal reads!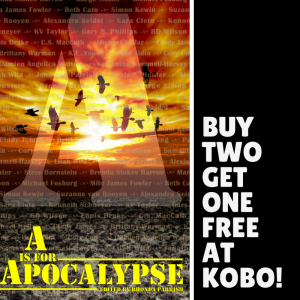 #SFWAPro
Save
Sign Up for the Cato Log
Upcoming Events
Nothing scheduled for now. Thanks, 2020.
My tweets