Today I welcome guest author Steve Bein. He's a regular contributor to the neo-novelist group Novelocity, of which I'm webmistress. His third book from Roc just came out. Here's more about Disciple of the Wind:
When Tokyo falls victim to a deadly terrorist attack, Mariko Oshiro knows who is responsible, even though she doesn't have proof. She pleads with her commanding officers to arrest the perpetrator, an insane zealot who was just released from police custody. When her pleas fall on deaf ears, she loses her temper and then her badge, as well as her best chance of fighting back.

Left on her own, Mariko must work outside the system to stop a terrorist mastermind, armed with only her cunning and her famed Inazuma blade. But going rogue draws the attention of an underground syndicate that has been controlling Japanese politics from the shadows for centuries. They are the Wind, and they have a penchant for mystical relics—relics like Mariko's own sword, and the iron demon mask whose evil curse is bound to the blade. Now the Wind is set on acquiring Mariko.

Mariko is left with a perilous choice: join an illicit insurgency to thwart a deadly villain or remain true to the law. Either way, she cannot escape her sword's curse. As sure as the blade will bring her to victory, it will eventually destroy her…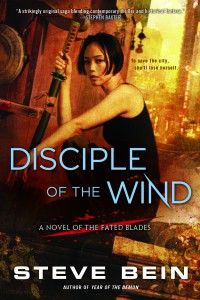 You're a confessed Japanophile from an early age. What was your favorite cartoon/anime as a kid? Do you have a new favorite now?
I can't say I watch much anime anymore, but my favorite way back when was TranZor Z. The people who created the show would tell you it's about a giant robot who defends the Earth from giant aliens, but to me it was about the kid who pilots the robot. He had this hovercraft that also served as TranZor Z's brain. The same animated sequence shows up in every episode: the kid leaves home in the hovercraft, docks it in the robot's cranium, and brings TranZor Z to life. I thought that was the coolest thing ever.
I like standard urban fantasy novels, but one thing I really liked about Mariko was that she grew a lot through her bond with her addict sister rather than through a romance. Did you decide to go that route from an early stage?
Yes. I don't read romance, so I don't really know how to write romance. But more importantly, I don't like seeing female characters defined by their function as half of a couple. That's not because of some well-articulated feminist stance (though I do have one of those); it's because I don't find those women interesting to read about. Mariko kicks ass because I like reading about ass-kickers. She doesn't need a boyfriend to rescue and she definitely doesn't need a boyfriend to rescue her.
Some reviewers of Year of the Demon had an observation along similar lines: when Mariko gets promoted to Narcotics, she gets a partner, and apparently everyone expected Mariko and Han (her partner) to hook up. I think that's bizarre. Why can't a man and a woman just be buddies? When did it become the rule that if they trust each other and confide in each other, the next step is inevitably a kiss? I just don't get it.
I confess, I loved the entire Daughter of the Sword (the first book), but the historical parts (Glorious Victory Unsought and Tiger on the Mountain) were my favorites. Have you written/considered writing pure historical fiction?
Absolutely. There are so many episodes in Japanese history that demand my attention. The Mongol invasions don't need any fantasy element; these people had grenades, rocketry, and primitive tanks. Takeda Shingen is one of the baddest badasses ever to walk the earth; he deserves a novel all to himself. Some day I'd like to write those books. The only question is when.
The Fated Blades series obviously involved heavy duty research and plotting. Did you outline the full arc from the start? How did it develop?
I wrote Daughter of the Sword as a standalone, and spent years submitting it to agents and seeing it rejected. (I don't take that personally; it's a genre-bending book, and genre-benders aren't the easiest to sell.) When I finally signed an agent, we got an offer from Roc right away, and they asked if I could write a sequel. The correct answer to that question is yes, regardless of whether or not it's true.
Having said yes, I had to figure out how to write the next one, and I discovered that I'd accidentally laid the perfect foundation for a series. Mariko's a cop, and there will never be an end to police stories. Interwoven with Mariko's story are all the historical set pieces, and I'd already set aside nine hundred years' worth of history to work with. I had two bottomless wells to draw from, so I was all set.
What martial arts do you practice?
These days it's exclusively Brazilian jiujitsu, but I came up in a Jeet Kune Do system. That's the art Bruce Lee founded, designed for street self-defense. I've dabbled in a bunch of other arts too (I think the last count was 25), including several sword arts, which obviously inform these books quite a bit.
There is one moment in a fight scene that's directly lifted from my own experience. In Japan I trained jiujitsu with a former sumo wrestler. Let me tell you, once that guy got on top of you, there was no getting out. In Daughter of the Sword, I have an ex-sumo wrestler tackle Mariko, leaving her feeling as helpless as I felt.
If a history nut like me wants to learn more about samurai, what are a few books (fiction or nonfiction) you would recommend?
The first one I read is still my favorite: Secrets of the Samurai by Adele Westbrook and Oscar Ratti. Stephen Turnbull's The Samurai is another excellent choice, and after you read that, read William Wayne Farris's Heavenly Warriors as a counterpoint to Turnbull.
You can also go to the primary texts. The most famous one is Miyamoto Musashi's Book of Five Rings. I like the Hagakure better; it's the compiled sayings of a veteran samurai recorded by a young samurai who wants to better understand bushidō. There are also English translations of Yagyū Munenori, a samurai with a keen interest in Zen. His school of swordsmanship still exists, actually, which I think is pretty cool.
Your third Fated Blades novel, Disciple of the Wind, just came out, but can you also tell us about your new novella?
It's called Streaming Dawn, and it takes place between Year of the Demon and Disciple of the Wind. It's a tale of politics and intrigue, honor and dishonor, fabled swords and ninja badassery. It also introduces the most sinister of the Inazuma blades, a dagger known as Streaming Dawn. It's written as a standalone novella, so for anyone who hasn't read the books it's a perfect entry point to the saga of the Fated Blades. People who already know the novels will enjoy discovering the backstory of Mariko's famed sword, Glorious Victory Unsought, and they'll recognize some beloved characters: the warlord Toyotomi Hideyoshi, Daigoro's legendary father, Okuma Tetsurō, and everyone's favorite one-handed pearl diver, Kaida.
Thanks, Steve!
More about my guest:
Steve Bein (pronounced "Bine") is a philosopher, photographer, traveler, translator, martial artist, and award-winning author of science fiction and fantasy. His short fiction has appeared in Asimov's, Interzone, Writers of the Future, and in international translation. His first novel, Daughter of the Sword, was met with critical acclaim, and his second novel, Year of the Demon, was named one of the top five fantasy novels of 2013 by Library Journal. Steve's newest book, Disciple of the Wind is in stores now, and his new novella, Streaming Dawn, is available now for your e-reader. You can find his work at Powell's, Barnes & Noble, Amazon, and Audible.
Steve teaches philosophy at Texas State University. He lives in Austin with his partner Michele and their Lab, Kane. You can keep up with him online at facebook/philosofiction, @AllBeinMyself, and http://www.philosofiction.com.