I've been blessed with an amazing book cover, but I'm greedy. I want more art! More pretties! Therefore, I reached out to my friend Darryl Knickrehm. He was an editor at Waylines Magazine, where he also handled the artwork. I commissioned two works from him, which I'm delighted to share. They can also permanently be found over on the World of Clockwork Dagger page.
First of all, there's the illustration of Octavia.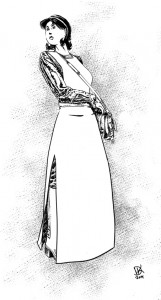 This is closely in line with my original concept of her medician attire, which is strongly influenced by the gear of a World War I nurse. Plus, it includes Octavia's satchel! That satchel is of vital importance within the book, so it's thrilling to see it there at her hip.
The other illustration features another central character of the book–Mrs. Stout!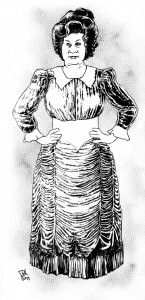 Mrs. Stout is Octavia's roommate on her airship journey, and quite a colorful character. Mrs. Stout is very much inspired by Mrs. Slocombe from the British comedy Are You Being Served?, down to the vivid hair and bombastic attitude.
I'm so happy with how everything turned out. If you need to commission artwork, go check out Darryl's page. He's awesome to work with, and as you can see, the results are amazing!