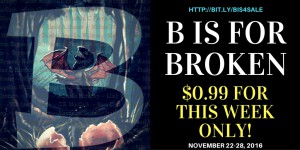 The B is for Broken anthology is on sale for 99-cents today through November 28th over at Kobo! The book features 26 diverse stories around the theme of "broken." My story is for the letter K, and I won't say more than that.
This is a steal of a buy, so grab it at Kobo while this price lasts!
#SFWApro
Save
Sign Up for the Cato Log
Upcoming Events
Nothing scheduled for now. Thanks, 2020.
My tweets