I'm a writer, but foremost I'm a reader. That means I go into total fangirl mode for certain authors and series. I heard a lot of buzz a few years ago at the release of Michael J. Martinez's first book The Daedalus Incident. It sounded like my kind of book: a human settlement on Mars where things so inexplicably weird, and a parallel plot with a colonial British Empire with space-faring, alchemy-powered frigates. Um, hello. Science fiction AND historical fantasy in one book? Yes, please!


I loved the book and raved about it and loved the second one just as much. Meanwhile, I kept up with Michael via Twitter. We were able to meet and chat at World Fantasy in D.C. last November, and he asked if I'd be willing to read the third book to perhaps blurb it.
I loved The Venusian Gambit. It was a nonstop, can't-stop-reading, oh-good-grief-is-everyone-gonna-die kind of book. I was happy to send along a blurb, and I was genuinely shocked this week to find it's going to be featured on the book's cover!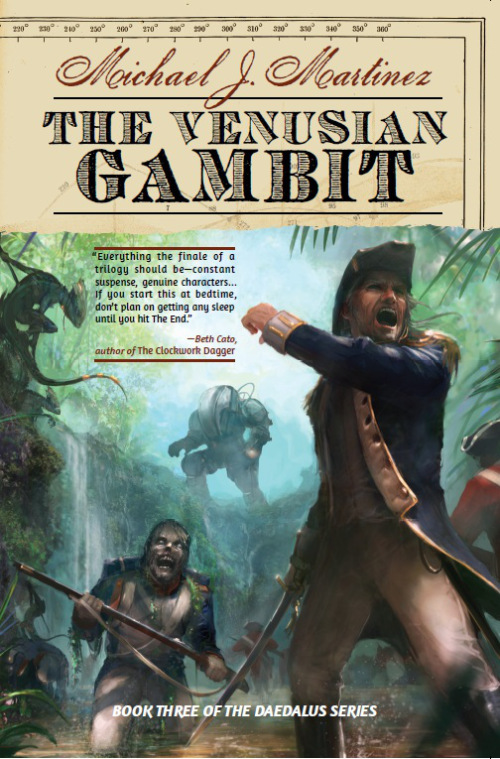 I'm chuffed. No denying it.
You can read Michael's full cover reveal post over here, and be sure to check out the first book of the trilogy, The Daedalus Incident. Go ahead and blame me when you're still up and reading at 1am, too. (And hey, Michael is attending Phoenix Comicon at the end of May! Get those books signed.)