Call of Fire releases in less than two months, and so far three trade reviews have come in, all of them good. Like, really, really, good. Starred reviews from both Library Journal and Publishers Weekly, and an enthusiastic review from Kirkus, too. I can't even express how relieved I am by this reception!
This is a good time to point out that Call of Fire is available for preorder everywhere, and the first book in the series, Breath of Earth, is still on sale for $1.99.
Meanwhile, I'm trying to get book 3, Roar of Sky, in decent shape to send to my editor next month. My brain. It is breaking.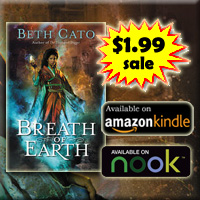 #SFWApro