I review everything I read and post reviews on Goodreads and LibraryThing. That's not enough. Good books are meant to be shared. Therefore, I'm spotlighting some of my favorite reads here on my site.
A Song for a New Day by Sarah Pinsker
out now; Indiebound, B&N, and Amazon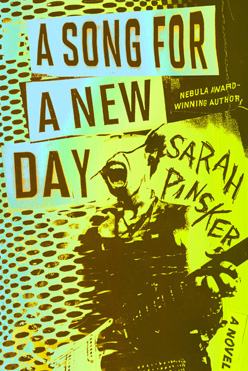 I received an advance copy of this book via NetGalley.
I'm a big fan of Sarah Pinsker's work. I adored her collection Sooner or Later Everything Falls Into the Sea [reviewed here] and have been genuinely excited that her first novel would be inspired by her fantastic novelette "Our Lady of the Open Road." The book absolutely lived up to my high expectations.
Pinsker's science fiction is eerily plausible: a near-future world where a series of terrorist attacks and illness with high mortality have led to laws against congregations of people. Society fully embraces the digital and insular, relying on drone delivery for most all goods and on virtual experiences for dating, sports events, and–most notably for this book–concerts, with StageHoloLive being the major purveyor of much entertainment.
Enter the two protagonists: Luce, a gifted musician on the cusp of going big when the world fell apart, and Rosemary, a young woman rendered agoraphobic by her parents and culture, but who perkily heads out to find undercover musical acts as part of her new job for StageHoloLive. All of the characters in the book are nuanced and realistic, and Pinsker's own background in bands completely grounds the world. This develops into a book with some shades of Charles de Lint's works, yet with an original, fresh approach to a timeless theme: a celebration of music, of EXPERIENCING music, of how much more is involved than merely listening.
This book is beautiful, and its deep message will linger with me for a long while.