I review everything I read and post reviews on Goodreads and LibraryThing. That's not enough. Good books are meant to be shared. Therefore, I'm spotlighting some of my favorite reads here on my site.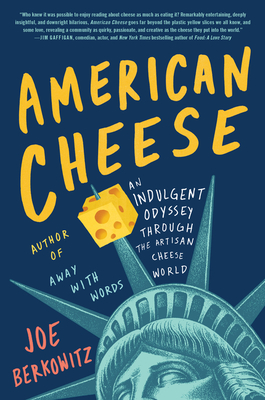 American Cheese: An Indulgent Odyssey Through the Artisan Cheese World by Joe Berkowitz
out now in print and ebook; BookShop, B&N, and Amazon [affiliate link]
I received an advance galley through NetGalley.
American Cheese is my kind of book. Author Joe Berkowitz had a near-religious experience with artisan cheese that awoke him to the diverse flavors and textures of the world's cheese, resulting in a country and world-spanning odyssey to understand the joys of modern cheese and the industry as a whole. It's enlightening. It's laugh-out-loud funny throughout. Perhaps most of all, I felt as if I had connected with a friend who gets it.
I love cheese. I chronicle every cheese that I try and constantly seek out new experiences. It has become one of my prime (and most expensive) hobbies. I've had many of the cheeses he viscerally describes in this book, and discovered many more to add to my wish list (and yes, there is an actual wish list). Even more, he gets to experience and describe incredible things I never will, like volunteering at Murray's Cheese in NYC, attending and eating his way through the Cheesemonger Invitational, hanging out with cheese influencers like Cheese Sex Death (one of my favorites online), traveling the California Cheese Trail (totally a goal of mine, though as a native Californian, I was appalled that the author didn't know California made cheese), and attending world-class cheese events in France and Italy. Through his words, I was vicariously there, and left desperately craving the cheeses he describes.
Throughout everything, he is easy to relate to, modest, and hilarious. Some choice quotes include:
"I wanted to run outside doing full Kermit-arms and scream for everybody to try this cheese right now, which probably wouldn't be the weirdest thing anyone overheard on Bleecker Street that day."
"Cheese is literally heaven. It's what happens after milk sheds this mortal coil and ascends to a higher plain of existence."
Seriously, if you love cheese, get this book.