I review everything I read and post reviews on Goodreads and LibraryThing. That's not enough. Good books are meant to be shared. Therefore, I'm spotlighting some of my favorite reads here on my site.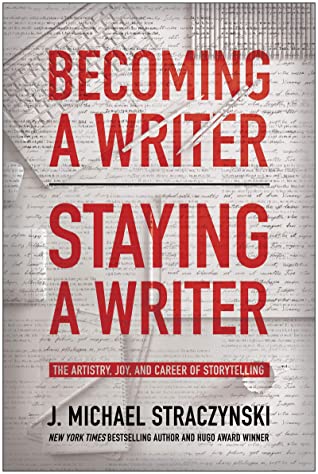 Becoming a Writer, Staying a Writer: The Artistry, Joy, and Career of Storytelling by J. Michael Straczynski
out now in print and ebook; BookShop, B&N, and Amazon [affiliate link]
I received an early copy of this book from the publisher via NetGalley.
I've read many writing books. Straczynski's new release approaches the subject of writing from a fresh angle: his own life, with his diverse experience in Hollywood and in publishing, as he discusses the tenacity and work necessary to "make it" within the industries–and then how to hang after that. His tone is easy and conversational, and the book is a fast read.
I've adored the man since I was a Babylon 5 fan as a teenager, and this book increased my esteem for him even more. As a writer myself, one who is definitely at the "trying to hang on" stage, this book felt both timely and personal. Straczynski gets it. Even with all his success, he's still working hard because he loves what he does, as challenging as it is at times.
He begins with a Stephen King quote that I hadn't seen before: "In the end, you don't even do it [writing] for love, although it would be nice to think so. You do it because to not do it is suicide."
That sets the tone for the book. Everything here is for people who NEED to write, even though it's hard, enough though life and rejection grind you down. Even more: even when writers grind down themselves. As he notes, "A writing career can survive rejection, ridicule, starvation, and loneliness, but fear or complacency will kill it every time."
He doesn't claim to possess any shortcuts or special methods. He actually, with exasperation, describes people he's dealt with time and again who insist otherwise. When it comes down to it, the book is about tenacity and hard work. Other writing books address that, sure, but Straczynski's words really resonated with me. This is the kind of volume I think I'll reference again in the future when I need his honest outlook to motivate me.