I review everything I read and post reviews on Goodreads and LibraryThing. That's not enough. Good books are meant to be shared. Therefore, I'm spotlighting some of my favorite reads here on my site.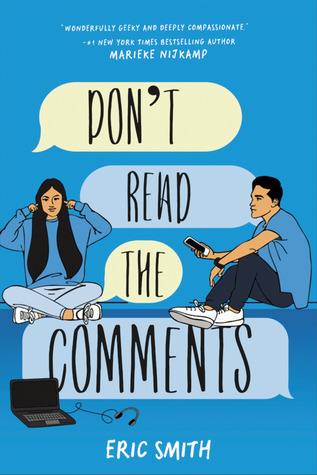 Don't Read the Comments by Eric Smith
out now; Indiebound, B&N, and Amazon
I received this book from the publisher via NetGalley.
Don't Read the Comments is a YA book that is incredibly timely, realistic, and well done…. but wow is it a hard read at times. Frankly, this book is a horror novel about what the internet and social media are like for women in this era of Gamergate and trolls. Don't get me wrong–I loved the book and I am absolutely adding it to my shortlist for the Norton Award for next year–but I also pushed through reading it as fast as I could because there's no denying it was triggery.
Divya is a passionate teenage gamer with a streaming channel and social media presence. Her increasing clout have started to garner her much-needed promotional items and sponsorships, but also, trolls who don't want a girl–especially one of color–taking up space in 'their' world. When a troll mob ambushes Divya and her devoted Angst Army, that's horrible enough, but when the threats become physical in reality, that's something else.
Meanwhile, gaming is Aaron's whole life–or would be, if he didn't have to put in hours in his mom's medical practice. His real passion is writing the plot for a new game publisher-start-up (though it'd be nice if he could get paid) and playing loads of other games, too. When he and Divya meet in-game, they strikes up a friendship that feels absolutely genuine–even as troll attacks against Divya escalate and her life begins to unravel.
Smith really nailed every element in this book. Every character and relationship resounds with truth, from Divya and Aaron's adorably geeky connection to their love and exasperation for their parents. The gaming world comes across with 100% realism. As an old school gamer myself, I ADORED the shout-outs to old and dear favorites of mine like Chrono Trigger and Final Fantasy III (with a necessary note that this is the original American Super Nintendo release), plus casual mention of things like roms to play old games. Some revelations about Aaron's dad were especially delightful.
Of course, part of the realism is the horror aspect: trolls, doxing, and the persistent harassment that women endure online. This is all sadly accurate, too, but I love how Smith brings everything together in the end with thoughtfulness and care. Nothing about this book is sugar-coated and easy, but there's still a spirit of hopefulness that is necessary in their world and in ours.