I review everything I read and post reviews on Goodreads and LibraryThing. That's not enough. Good books are meant to be shared. Therefore, I'm spotlighting some of my favorite reads here on my site.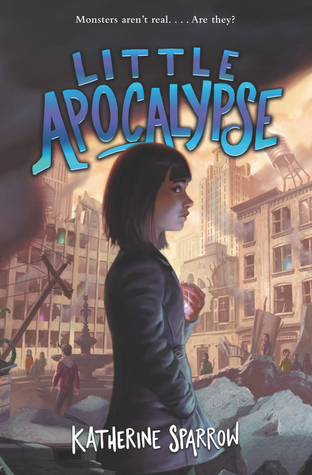 Little Apocalypse by Katherine Sparrow
out now; Indiebound, B&N, and Amazon
I received a gratis copy of this book for reviewing purposes.
Little Apocalypse feels like a delightful mash up of Neil Gaiman and Charles de Lint, all wrapped up in a middle grade package. There's a level of darkness here–a wise, thoughtful look at how adults can make children into monsters–that is accessible to kids, and thoroughly enjoyable for adults as well.
Celia has been awfully lonely in her new city, at her new school. Her solid relationship with her parents can't make up for that. She's trustworthy enough that her parents leave her alone for a weekend to go take care of her grandmother–and that's when awful things happen. A terrible earthquake hits the city, cutting off the island from the outside world. She sees a strange, sad boy–a boy who happens to love books like she does–but his strange behavior and stranger friends make her leery. It turns out there are monsters around. Big monsters, little monsters, and a war that involves kids, and Celia is at the center of a prophecy that could change the world.
I loved everything about this book. It's so intense, I blazed through in about a day. Every single character feels vivid and real. As fun and entertaining as the book was, I loved what it said about major issues like relationships, self-control, and what it means to be a monster. I'm adding this to my shortlist of children's books to nominate for the Norton Award for the year.