I review everything I read and post reviews on Goodreads and LibraryThing. That's not enough. Good books are meant to be shared. Therefore, I'm spotlighting some of my favorite reads here on my site.
Miss Violet & the Great War by Leanna Renee Hieber
out this week; order at Indie Bound, B&N, or Amazon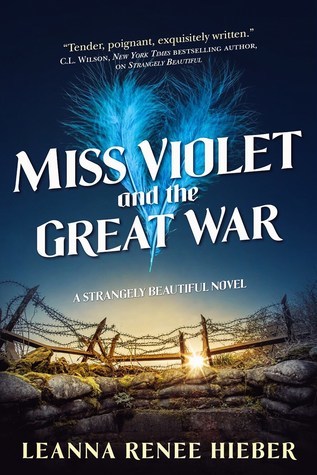 I received this book through NetGalley.
Hauntingly hopeful, Miss Violet & the Great War explores the tragedy of the first World War with poetic grace. I found this not to be a book to blaze through in one sitting, but one to savor and appreciate in little bites. That's not to say it's a slow read, either. This is a book that felt like immersing myself into a cozily hot bath.
I've read one of the related books in Hieber's world, The Eterna Files, and that was a few years ago now. I jumped into this fourth book in the current series and had no problem following along, and I immediately loved a number of characters. While The Eterna Files seemed to be more of a supernatural mystery to me, Miss Violet & the Great War comes across as more like a spiritual gothic in the very mode of early 20th century novels.
Though the book is about the horrific aspects of war, Hieber's main focus is on the goodness and creativity of humanity. I'm rather left in awe by the grace of how she handled that. Miss Violet grows up haunted by visions of the War to come throughout her childhood, and prepares herself with intelligence and practicality; so many books are plagued by impulsive protagonists, and it's refreshing to encounter one with such thoughtfulness and diligence. The latter half of the book is in the War itself, with battles of physical and spiritual natures.
I highly recommend this to readers interested in the Great War and historical fiction with a fantastical bent.