I review everything I read and post reviews on Goodreads and LibraryThing. That's not enough. Good books are meant to be shared. Therefore, I'm spotlighting some of my favorite reads here on my site.
The Good Son: A Story from the First World War, Told in Miniature by Pierre-Jacques, Jules Ober, & Felicity Coonan
out now; Indiebound, B&N, and Amazon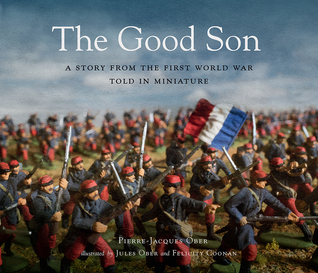 I received this hardcover book through the LibraryThing Early Reviewer's program.
This is a picture book for children, but don't assume it's about rainbows and happy endings. It's not. This book is intense. It is honest. It is bleak. Without a drop of red, it depicts the horrible nature of war. This is a book that might really bother some kids (and parents), but I see this as a book to inspire some hard but necessary discussions.
Without even considering the content, the The Good Son is an artistic masterpiece. It is fully illustrated through the use of toy soldiers, elaborate sets, and brilliant use of perspective. The effect is stunning. The use of toy props doesn't cheapen the message in the slightest. On the contrary, the pages look eerily realistic at times. I think kids will really connect to the scenes because there ARE toys being used–which again, might be bothersome for some, but that is something to be worked through.
The text is minimal but effective. This book would be quick to read, but so much is happening in many scenes, I found myself lingering on each. The set up for the book is stark: a young French soldier named Pierre went AWOL for two days over Christmas to visit his mother, and upon his return, he is imprisoned and sentenced to death. He is to be made an example of to prevent further desertions. Pierre reflects on his time as a soldier and what he has learned about his German enemies as he awaits dawn and his execution. Again: this is not a book with a happy ending. That's the nature of life, and of war–especially the Great War.
Some people might argue that the very premise makes this a horrible book for kids. I strongly disagree. There's a great Madeleine L'Engle quote: "You have to write the book that wants to be written. And if the book will be too difficult for grown-ups, then you write it for children." Children aren't oblivious. They see and experience a lot. Teaching them that war is glorious and that heroes can't be killed does not do them favors in the end. This book uses toy soldiers to get on the same level as kids, and respects their ability to understand what unfolds.