I review everything I read and post reviews on Goodreads and LibraryThing. That's not enough. Good books are meant to be shared. Therefore, I'm spotlighting some of my favorite reads here on my site.
The Okay Witch by Emma Steinkellner
out now; Indiebound, B&N, and Amazon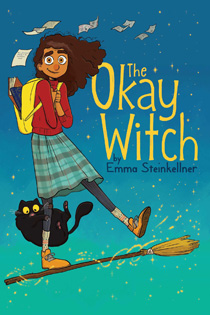 I received an ARC of this book via NetGalley.
The Okay Witch is more than okay. It's absolutely charming. I adored this graphic novel and everything about it–art, story, characters, EVERYTHING. Moth is thirteen and doesn't fit in at school–and when she suddenly discovers she has magical powers, that doesn't exactly help much. This is a story packed with genuine heart. The tone is light, but there are heady issues addressed with a delicate hand. Moth is a wonderful, relatable heroine, but the entire cast is fantastic–including a talking cat who threatens to steal the whole show. I loved, loved, loved how inclusive it is. A subplot involving the said talking cat and a beloved actually made me get teary-eyed at one point.
I mean, really. Start reading because it's about magic and a smart girl and because the art is fantastic, and keep reading because you find everything about this book is fantastic. This is not only a 5-star read for me, but I'm adding it to my nomination list for the Norton Award.