I review everything I read and post reviews on Goodreads and LibraryThing. That's not enough. Good books are meant to be shared. Therefore, I'm spotlighting some of my favorite reads here on my site.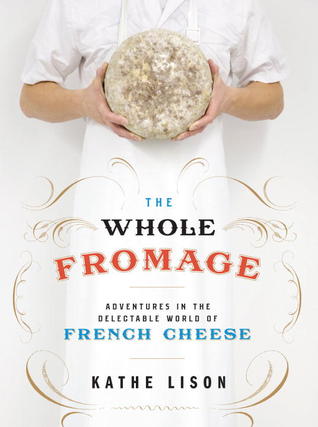 The Whole Fromage: Adventures in the Delectable World of French Cheese by Kathe Lison
out now; Indiebound, B&N, and Amazon
New life goal: become a cheese knight.
That is a real thing in France, if you are so blessed by one of many local brotherhoods/sisterhoods of local cheese. The facts of cheese knighthood are among many very real delights described in this book by Kathe Lison, a Wisconsin native who arose from humble beginnings of Kraft boxed macaroni and cheese to explore the cultural and historical nuances of French fromage. If you're a history geek (ME!) who loves cheese (ME!) with a yearning to travel, even if vicariously through literature (ME! ME!) this book will hit all of your sweet spots (and savory spots besides).
I found out about this book by listening to a podcast of the author in conversation with travel guru Rick Steves upon the subject of French cheese. The book delves much deeper into the subject, and does so in an easy-to-relate-to breezy tone. Chapters focus on cheeses such as Salers, chevre in southwestern France, Camembert and the mythology around it, Reblochon, Comte, Roquefort and its caves, sheep cheese of the Pyrenees, and of course, Langre and its cheese knights. There is a great deal about traditional methods of cheesemaking, the ever-changing industrialization of it, and the peculiarities of AOC labels and terroir.
This was my first book of 2020 and I hope it sets my destiny for the year–one filled with delicious artisanal cheese.