I review everything I read and post reviews on Goodreads and LibraryThing. That's not enough. Good books are meant to be shared. Therefore, I'm spotlighting some of my favorite reads here on my site.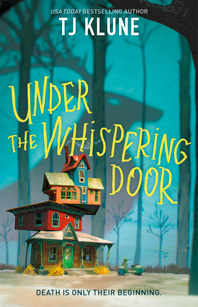 Under the Whispering Door by T.J. Klune
out now in print and ebook; BookShop, B&N, and Amazon [affiliate link]
I received an advance copy of this book via NetGalley.
The skin around my eyes remains stiff from tears because this book made me SOB, but in the best of ways. This is a beautiful, extraordinary book that will crush your heart and put it back together, too.
Wallace is a jerk. He's like Scrooge brought into the modern-day–a high-powered lawyer who is callous, cold, and not the slightest bit loved. When he keels over dead, he attends his own funeral and rages, unseen, at the way his ex-wife and law firm partners disrespect him. A reaper arrives–a young woman, Mei, who can see and hear him, and takes him to a strange tea house in the middle of nowhere. It's a waypoint for the recently dead to come to grips with their new state of being before they move on through a door set in the fourth-floor ceiling. The purveyor is Hugo, a man with a knack to choose the right tea for anyone–and also, a ferryman, a person with a genuine, empathetic heart. He helps the recently-dead move on.
But Wallace doesn't want to move on. He stays. He rages, he grieves, and slowly, he starts to change. And fall in love.
I fell in love, too, with every character. The deep feels of this book remind me of Becky Chambers's novels–stories that truly capture the complexity and the goodness of people and somehow manage to reaffirm your belief in humanity. I like that this took the Scrooge trope and made it more realistic–there's no overnight change. It's gradual, it's painful, it's full of regret. Ultimately, it's a queer love story, too, and again, one that feels realistic (because honestly, anyone and everyone can and will fall in love with Hugo).
This will be one of the best books I've read this year, and probably an all-time favorite.