This has been one weird, crazy week. Things have started to calm down, which is good. I've been working on a lot of promo guest blogs and interviews over the past while, and it's nice to return to some short stories.
I did have one big surprise this weekend. Last week I had a guest post over on Bookish. Well, through some shares on Twitter, I found this post was also published on USA Today. Like, whoa.
Another piece of good news: I survived my first booksigning! Mind you, I've signed lots of books before, but always at home and most of them for family and friends back in California. Never in front of a crowd, for strangers, in a store.
Changing Hands had a whole table set up with stacks of my books. I had to do the Vanna White thing.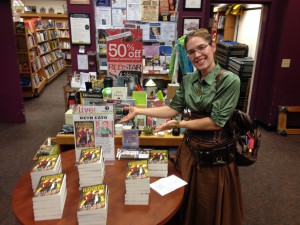 I ended up with a fabulous number of people there–fifteen or so. Pretty awesome for a debut author like me! In speaking with people afterward, some found me through the Arizona Republic article, my guest blog at Chuck Wendig's Terrible Minds, by simply stopping to hear me speak in the store, plus several are good friends and friends of friends.
I spoke about the dream of becoming an author, then took questions, and capped things off with an excerpt.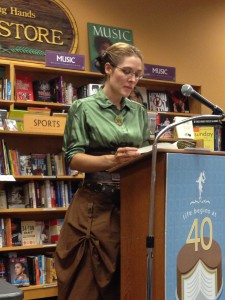 It was so strange to see a full line of people waiting to have their book signed. I've stood in lines like that sooooooo many times; this time it was for me!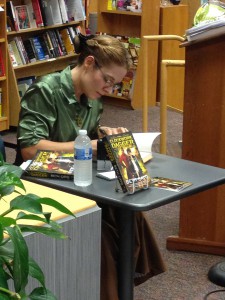 When everything was done, we cleaned up and I was heading out of the store. A man stopped me to compliment me on my steampunk outfit, and a minute later he returned with his wife. I ended up walking with them back to my table, where I signed a book for them! BEHOLD THE POWER OF THE CORSET.
Changing Hands had a big poster of my book cover up at the front of the store. I asked what they were going to do with it, and they happily handed it over to me. This is destined for a wall somewhere in my house.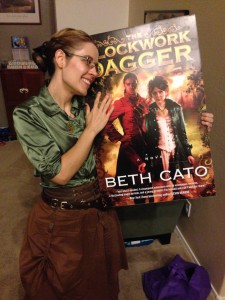 I want to extend heartfelt thanks to everyone at Changing Hands Tempe for being so kind and welcoming. There's no getting away from the cliche, because it's the truth: this was a dream come true.