Today's Bready or Not is a 2-for-1 deal: a recipe for fast and easy pizza dough, followed by the process I use for  divvying up that dough to make small but thick cast iron pan pizzas.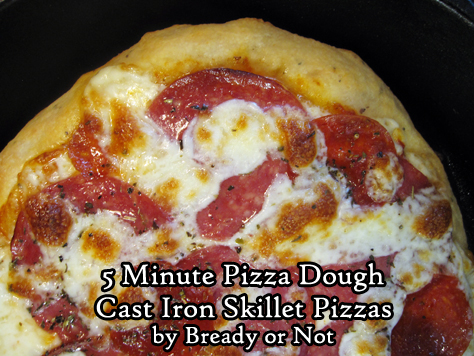 The basic dough recipe is modified from the great book Artisan Bread in 5 Minutes a Day. [Affiliate link] Yes, this dough really comes together in 5 minutes. It also keeps for up to 2 weeks AND can be frozen.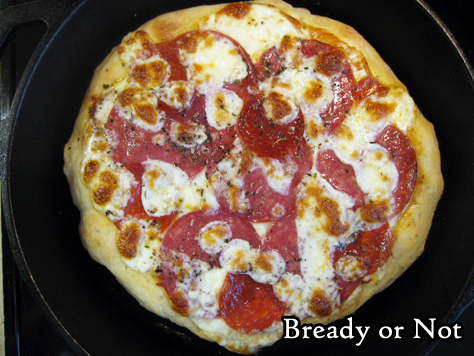 The method for making mini pizzas in a skillet is one I practiced a few times several years ago, then made a LOT during 2020 as my husband was working from home more often. I perfected it to the point where I had to write it down–and share here.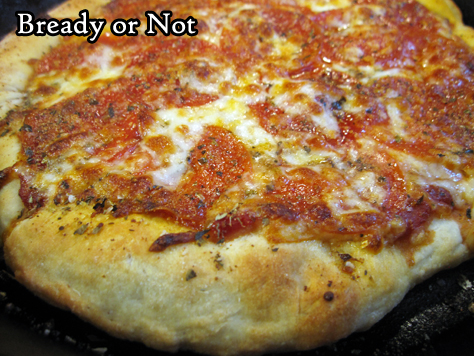 The pan pizza recipe is pretty much an outline to show the timing on the shaping, rise, and crust-cooking, but the ingredients are all up to you!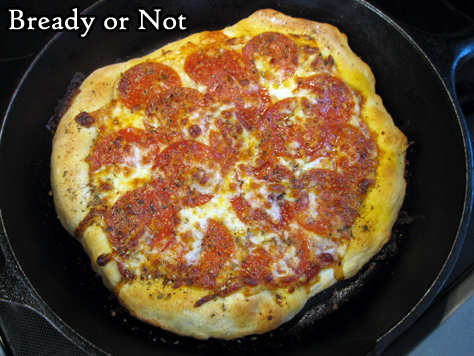 Bready or Not: 5 Minute Artisan Pizza Dough
This makes enough pizza dough for a large pizza or 3 10-inch 'pan' style pizza. The dough is ready to use after only a few hours, and will keep in the fridge for as long as two weeks. Modified from the book Artisan Bread in Five Minutes a Day by Jeff Hertzberg, M.D., and Zoe Francois.
Ingredients
1 1/3

cups

warm water

2

Tablespoons

olive oil

1/2

Tablespoon

white sugar

3 1/4

cups

all-purpose flour

3/4

Tablespoon

kosher salt

2

teaspoons

pizza seasoning

or Italian seasoning, optional

2 1/4

teaspoons

active yeast

or one packet store-bought active yeast
Instructions
Place the water, olive oil, and sugar in a big mixing bowl, stand mixer, or food processor. Add the flour, salt, and seasoning, if using. Start mixing together, then sprinkle in the yeast. Mix until just combined.

Keep in same bowl, if desired, or transfer to another bowl that is greased. Loosely cover top with plastic wrap or towel and let dough rise at room temperature until it flattens out on top, about two hours.

Dough can be used now but is much easier to handle when cold. Refrigerate in a non-airtight container and use within two weeks. Dough can also be frozen in freezer bags, for up to a month, and defrosted later in the fridge.
Bready or Not Original: Cast Iron Pan Pizzas
About a 2-pound batch of dough, such as the 5 Minute Artisan Dough recipe on Bready or Not, will make three hearty personal pan pizzas in a 10-inch cast iron pan. This process takes about 45 minutes. The remaining dough can keep in the fridge for about 2 weeks.
Equipment
10-inch cast iron skillet
Ingredients
handful pizza dough

olive oil

desired toppings and seasonings
Instructions
Preheat oven at 450-degrees. Add about a tablespoon of olive oil to a cast iron skillet and place the pan in the oven to heat up.

Grab a good handful of pizza dough, or as much as desired to bake today. Oil a small space of counter or table as well as hands, and gently stretch and press out the dough to a rough circle. If it tears, patch with other pieces of dough as best possible. Let dough rest for about 20 minutes.

By this time, the oven should have preheated. Use a potholder to pull out the skillet. Carefully swirl the hot oil in the pan to coat the bottom and set pan down on a safe surface. Carefully, again, place the dough in the pan.

Bake crust for 6 to 10 minutes, until it is set. Pull out of oven and add desired toppings.

Put pizza in oven for another 6 to 10 minutes, until crust is golden and toppings are cooked to desired level. Let pizza cool for about 10 minutes, then slide onto a plate or other surface to slice and eat.

OM NOM NOM!