It's been far too long since we've done mini donuts. They're just so gosh darned cute.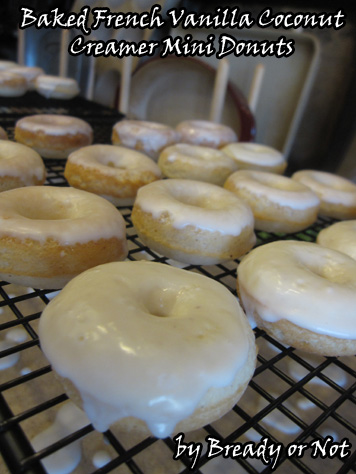 I did a similar recipe to this ages ago and the results were meh. I used plain milk and the donuts tasted BLAND. It was like putting delicious glaze on cardboard.
However, when company came and left behind some So Delicious French Vanilla Coconut Creamer, I knew I needed to use it up somehow. I decided to try donuts.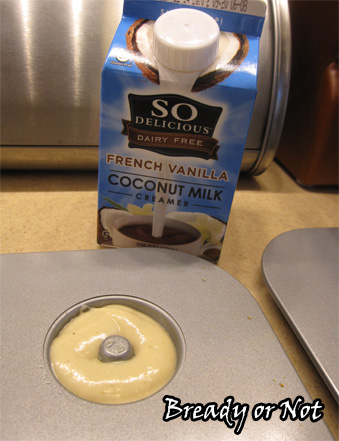 I'd never tried coconut creamer before. The stuff was fabulous. The flavor added the mildest touch of coconut and strong vanilla, and it carried through in both the donuts and the glaze.
I think the recipe would also work very well with other French Vanilla-flavored creamers, too. Or other flavored creamers, period. From my experience, the stuff is a great substitute for milk/liquid in all kinds of baked goods.
Donut recipe modified from Bakers Royale; glaze recipe modified from Averie Cooks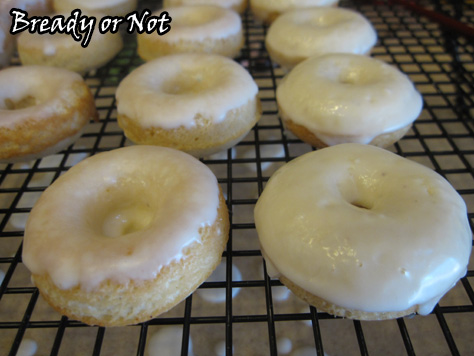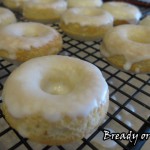 Print Recipe
Bready or Not: Baked French Vanilla Mini Donuts
Ingredients
Donuts
1 1/4

cups

cake flour

sifted

1/2

cup

granulated sugar

1 1/4

tsp

baking powder

1/8

tsp

ground nutmeg

3/4

tsp

salt

1/2

cup

French Vanilla Coconut Creamer

or other flavored creamer

1

egg

lightly beaten

2

Tbsp

butter

melted and briefly cooled
Glaze
3/4

cup

confectioner's sugar

sifted

1/2

tsp

vanilla extract

3

+ teaspoons of French Vanilla Coconut Creamer

or water, milk, half & half, etc
Instructions
Preheat oven to 400 degrees. Apply nonstick spray to mini donuts pan(s).

In a large mixing bowl, mix the flour, sugar, baking powder, nutmeg and salt. Add the creamer, egg and butter and stir until just combined.

To fill the pan, it's easiest to use a pastry bag or a sandwich bag with the corner snipped. Only fill the cavity to half full, which is usually about three circuits of batter.

Bake 4 to 6 minutes or until the top of the donuts spring back when touched. Let cool in pan for about 5 minutes before removing. Makes about 32 donuts. Unglazed, they can be frozen.
To make the glaze:
Combine ingredients and stir. Add more liquid as needed for the right consistency. Dip one side of the donut into the glaze, then immediately add sprinkles, if desired. Let donuts sit out an hour or so, until set.
Once glazed, the donuts keep best for about a day.