Air conditioning is what makes Phoenix habitable, but even that has limits. We keep our air set at 82-degrees. This keeps us comfortable but is still not quite cool enough for some stuff in our kitchen.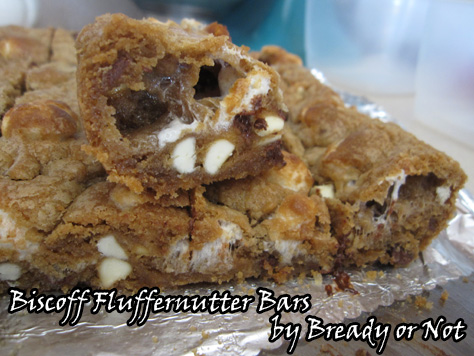 The chocolate chips in my pantry go soft. Miniature candy bars, stockpiled from holiday clearance sales, goes outright melty. Marshmallows and caramels begin to fossilize. I keep some things in the fridge but I can't get all of it in there.
This means I obviously need to start baking and use up the stuff while it's still good.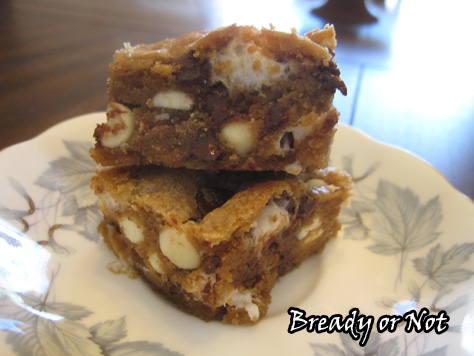 Traditional fluffernutter bars use peanut butter. You can certainly do that here–or use any nut butter–but I used my good ol' Biscoff spread because, as you all know, I'm obsessed with the stuff. It makes everything taste like cookie dough. What's not to love? I also used half a bag of mini marshmallows (you'll find out what I did with the other half in another recipe) and a bag of chocolate chips.
You know what's cool about using marshmallows in a recipe like this? CAVERNS. It creates pockets of invisible sweetness. Look! See?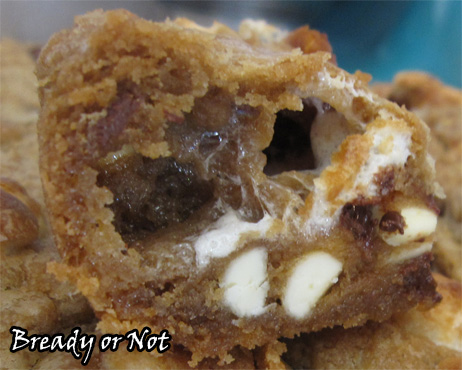 My husband took this to work and it was, um, popular. The whole 9×13 pan's worth of bars just kinda vanished and he had recipe requests.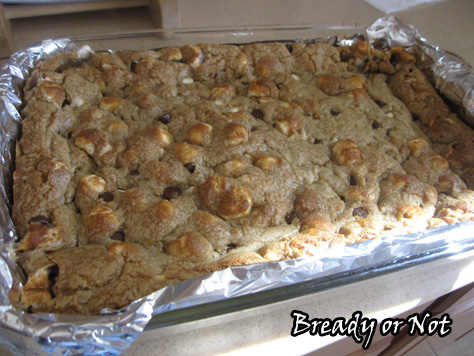 I don't believe in secret recipes. Share the love. If that love happens to involve chocolate, Biscoff spread, and marshmallows, all the better.
Recipe greatly adapted from Back for Seconds.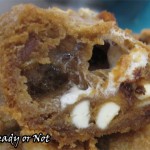 Print Recipe
Bready or Not: Biscoff Fluffernutter Bars
Ingredients
1

cup

unsalted butter

softened

3/4

cups

creamy Biscoff spread or nut butter

1

cup

brown sugar

packed

1/2

cup

white sugar

2

eggs

room temperature

1/2

teaspoon

salt

1

teaspoon

baking soda

2 1/4

cups

all-purpose flour

2

cups

chocolate chips

5

ounces

mini marshmallows

half bag
Instructions
Preheat oven to 350-degrees. Prepare a 9x13 pan with aluminum foil or parchment and apply nonstick spray.

In a mixing bowl, cream together the butter, Biscoff spread (or nut butter), and sugars. Add the eggs and blend in, followed by all of the dry ingredients. Gently fold in marshmallows and chocolate chips. It'll be thick.

Spread the dough into the pan and even out. Bake for 20 to 25 minutes, or until lightly browned on the edges. The center will jiggle slightly from the marshmallows but it will set after it cools.

Cool completely and cut into squares. Store in a tightly sealed container.