I failed at buttermilk biscuits. For years. This grieved me. This recipe, finally, is the one that has repeatedly produced lofty, flaky, perfect biscuits.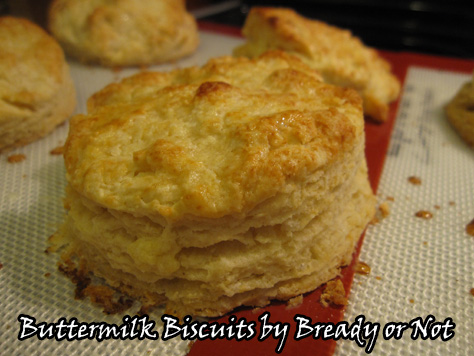 This is an important heritage thing. My dad is from Alabama. He is of the firm belief that every meal should come with a side of bread, and buttermilk biscuits are about as good as it gets.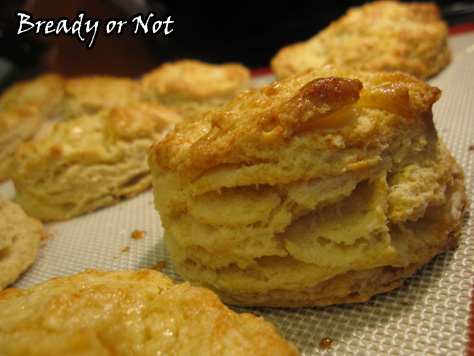 My husband's family isn't much different. Grandpa and Grandma Cato are Arkansas born and bred. We go to visit them, and we are fed an "Arkansas breakfast." That means enough food to go out into the woods and chop down trees all day and not be hungry until dusk. That breakfast always, always, always includes buttermilk biscuits with sausage gravy.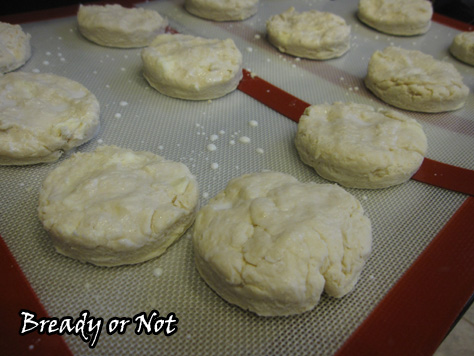 Biscuits. Serious business.
I found this recipe from Bakergirl and have modified it slightly; she in turn got it from Bobby Flay. I wish I could hug this recipe. You have no idea how pleased I am to have a biscuit recipe that works.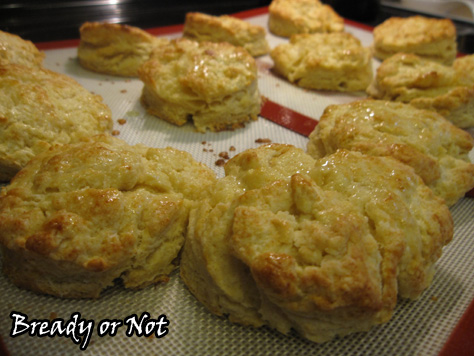 A few notes on this:
– I do homemade sour milk for the buttermilk by mixing a tablespoon of lemon juice in with milk (I've also done a mix with half & half) and letting it curdle for 15 minutes before using it.
– the recipe also works just fine if you happen to have buttermilk powder.
– it produces more than a single cookie sheet of biscuits.
– they are fabulous to bake and the freeze. It's always nice to have some stashed in the freezer!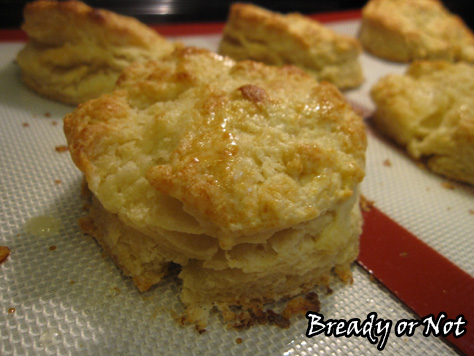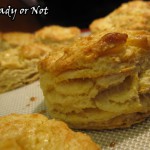 Print Recipe
Bready or Not: Buttermilk Biscuits
Classic southern-style buttermilk biscuits.
Ingredients
4

cups

all-purpose flour

4

teaspoons

baking powder

1

teaspoon

baking soda

1

teaspoon

salt

12

Tablespoons

unsalted butter

cold, cut into cubes

1 1/2

cups

cold buttermilk

or substitute sour milk
On top:
1/4

cup

milk

brush on tops before baking

2

Tablespoons

butter

melted, to brush on tops after baking
Instructions
Preheat oven to 450-degrees. Prepare baking sheets by lightly greasing them or using parchment or baking mats.

Combine the dry ingredients: flour, baking powder, baking soda, and salt. Gradually cut the butter into the flour mix, using a pastry blender or forks until it resembles coarse meal.

Add the buttermilk and combine until it just comes together. Don't overwork it! The butter needs to stay in small lumps; that creates the flaky layers.

Lightly flour about a square foot of counter. Press the dough out to mostly fill the space, with the dough still about 3/4-inch thick. Use a 3-inch round biscuit cutter to punch out shapes and place on baking sheets. Brush a little bit of milk on the tops of the biscuits.

Bake for 12 to 15 minutes or until they turn golden brown. Remove from oven and immediately brush melted butter on the tops.