Churro Chex Mix is addictive. It is dangerous. It might cause a sugar high that keeps you awake for a full day.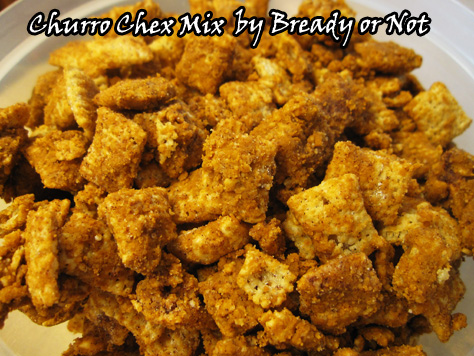 This stuff has made the rounds on lots of food blogs. I looked at about five different recipes, read the comments for more tips, and threw together my own version. I was concerned that some of the recipes featured a lot of Chex that looked, well, naked.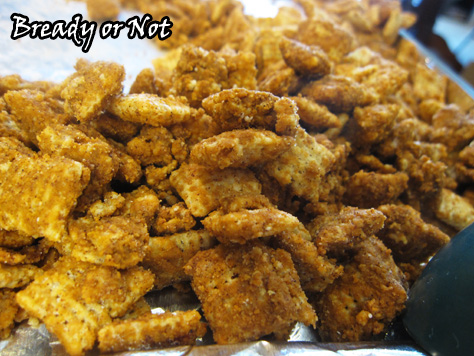 I wanted my mix to be slathered in happy sugar and cinnamon. I soon discovered that the pale pieces still have a lot of sugary-ness. It's just invisible. Subtle. Ninja-like.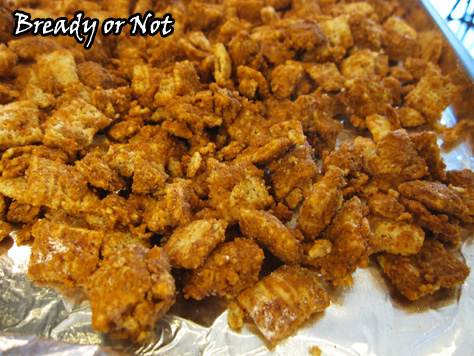 Note that Nestle cinnamon chips melt in a very thick way. It might be necessary to add a lot more butter (because these things weren't unhealthy enough already) to make it easier to stir the melted goop into the cereal.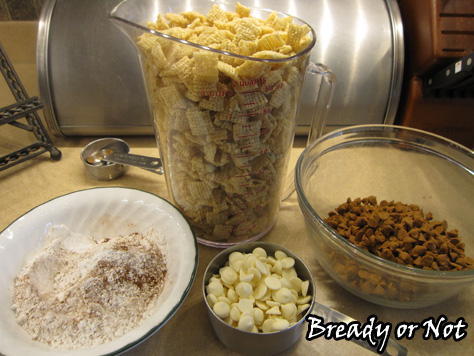 Also, depending on the ingredients you use, this can be served-up gluten free! Heck, you could even use Cinnamon Chex or the Cascadian Farms cinnamon cereal and just decrease the amount of added cinnamon.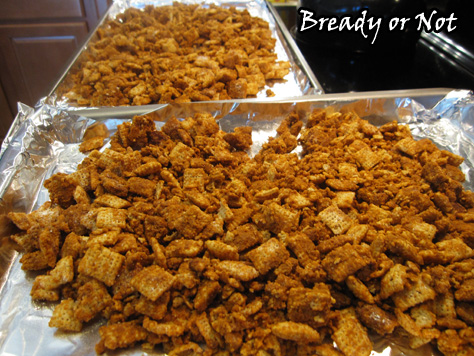 Just be warned: this makes a LOT. Be ready to share it with a lot of friends!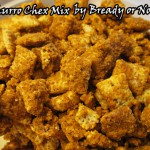 Print Recipe
Bready or Not: Churro Chex Mix
A Bready or Not Original from the High Priestess of Churromancy: This Churro Chex Mix is quick to make, and the recipe makes a lot! Kept in a sealed container, it should stay fresh for up to a week.
Ingredients
9

cups

Rice Chex cereal

about 1 cup less than full regular box

1/4 - 1/2

cup

unsalted butter

1

bag

cinnamon chips

1

cup

white chocolate chips

1/2

cup

confectioners' sugar

1/4

cup

white sugar

3

tsp

ground cinnamon
Instructions
Pour Chex cereal into a ginormous bowl. Combine sugars and cinnamon in small bowl so that it's ready to go. Also set out a few large rimmed cookie sheets; line them with aluminum foil for easy clean up.

In a microwavable bowl, melt the 1/4 cup butter, cinnamon chips, and white chocolate chips. Heat for 30 seconds, stir, then 30 seconds, then stir, continuing in small careful bursts until the chips smooth out. Be careful: the chocolate burns fast! Nestle-brand cinnamon chips tend to melt extra thick, so add another 1/4 cup butter (or more) if needed to make it more fluid.

Pour some melted mix over the cereal. Stir. Add more melted goop. Sprinkle in some sugar mix. Stir. Keep adding more melted mix and sugar mix until it's all gone and things are mostly covered. (Note: it's okay if some Chex still looks kinda naked, because it's still likely covered in sugar!)

Shift the Chex out onto the cookie sheets and spread it out so it's not too chunky. Let set an hour or so, then throw it in a sealable bag or a few big plastic containers.

OM NOM NOM!