These Classic Icebox Cookies are the kind of cookie I think about when holiday cookies come to mind.
That's because these are the kind of cookies I remember eating at Christmas when I was a kid–at preschool, at school, at home, everywhere. When my mom baked them, I had the all-important duty of Sugar Sprinkler.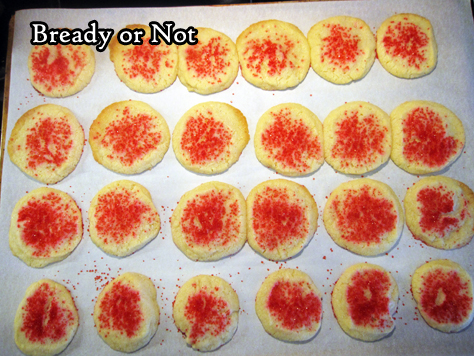 When I was just starting to bake, but still really nervous about it, I'd buy sugar cookie dough tubes at the store. At least I had the sugar-sprinkling down pat.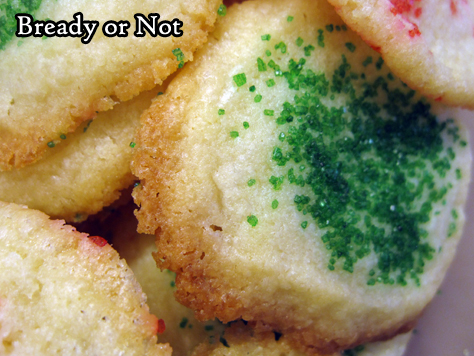 This recipe makes cookies that are a total nostalgia trip. They look and taste like a childhood holiday.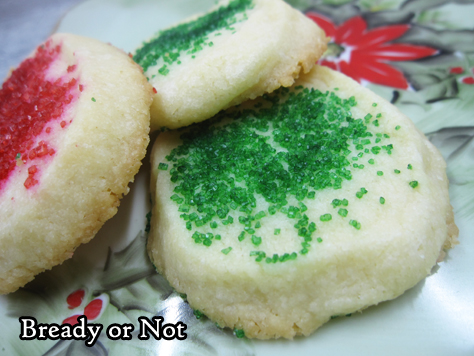 The only difficult thing about this recipe is stirring everything together. Get your biggest bowl, the one a large cat can completely fit in. Even then, stirring everything together might get messy.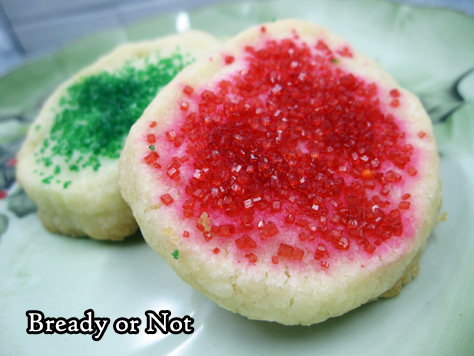 If you have kids or grandkids around, this is the perfect recipe for them to help out and build some memories of their own. Carry the nostalgia forward.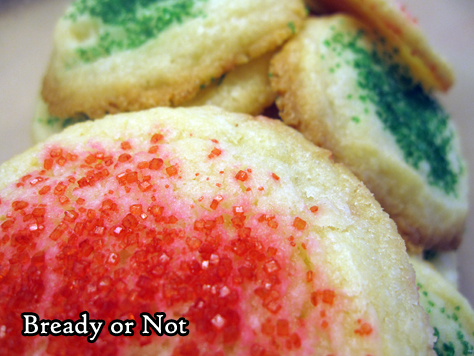 Modified from All Recipes Magazine December/January 2018.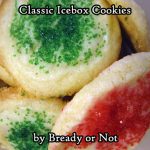 Print Recipe
Bready or Not: Classic Icebox Cookies
These are basic, classic, delicious cookies, packed with nostalgia and topped with colorful sugar. The hardest thing about the recipe is mixing the sheer amount of ingredients in the bowl. Do note that the dough requires chill time prior to baking.
Ingredients
2

cups

unsalted butter

4 sticks, softened

3

cups

white sugar

1/2

teaspoon

cream of tartar

dash

salt

1

egg

4 1/2 - 5

cups

all-purpose flour

decorating sugar
Instructions
Beat butter with an electric mixer until creamy. Add the sugar, cream of tartar, and salt. Gradually mix in as much flour as possible, then stir by hand to get to at least 4 1/2 cups. Dough should be stiff.

Divide dough into thirds and shape into logs about 1 1/2 inches in diameter. Enshroud in plastic wrap and chill until firm, at least 1 hour.

Preheat oven at 375 degrees. Line baking sheet with parchment paper. Slice dough rolls into 1/4-inch slices, reshaping with hands as necessary, and place them on cookie sheet with plenty of space to spread. Add decorating sugar on top.

Bake until the cookie edges are turning golden brown, 8 to 10 minutes.

Depending on how cookies are cut, makes anywhere from 60 to 90 cookies.

OM NOM NOM!