I prepared two classic recipes to repost while I was on vacation this summer. That isn't happening now. Therefore, I'm sharing them earlier with the hope that my fellow #stressbakers can enjoy them. Eat well and stay safe out there!
Today I present something seriously delicious: Oatmeal Cream Pies, aka Sandwich Cookies.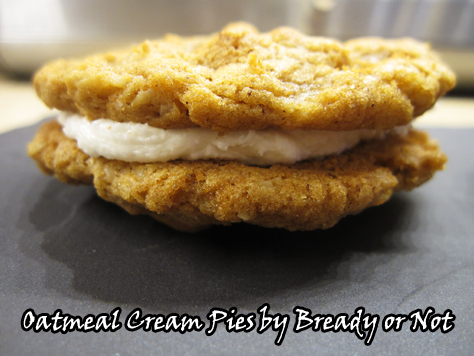 These things are about the size of a sandwich, too, and about as filling because of the chewy oatmeal cookies. You have two tablespoons worth of dough with a teaspoon of marshmallow cream between them. So yeah.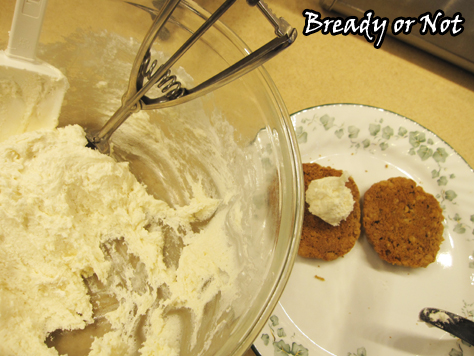 I don't think I'd make smaller cookies, though, for sheer reasons of space and time. The recipe makes over four dozen cookies, which makes for over two dozen sandwich cookies. This is a recipe to make for a lot of hungry adults or kids!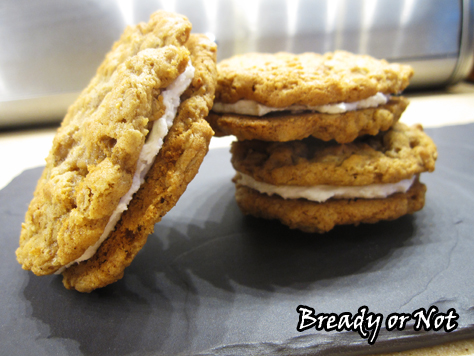 If you love commercial-made cream pies like the ones from Little Debbie, these homemade ones will blow your mind. They have that same taste and texture, but with some extra chewy freshness.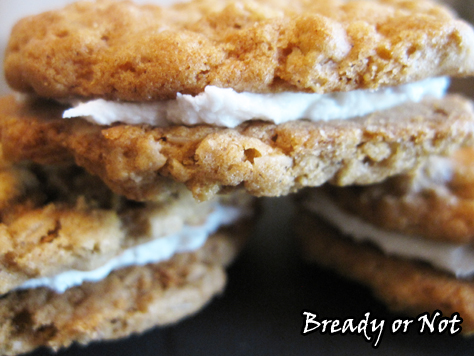 I highly advise that you use tablespoon and teaspoon scoops for this recipe, too. It helps a lot if the cookies are of uniform size and that the amount of filling is equally distributed.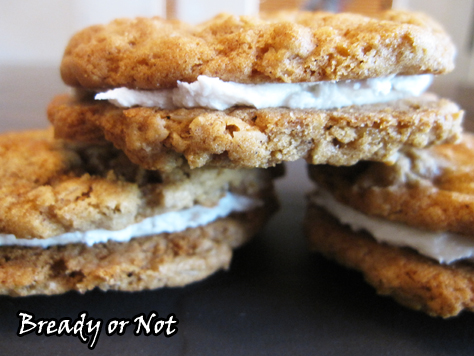 Modified from Taste of Home.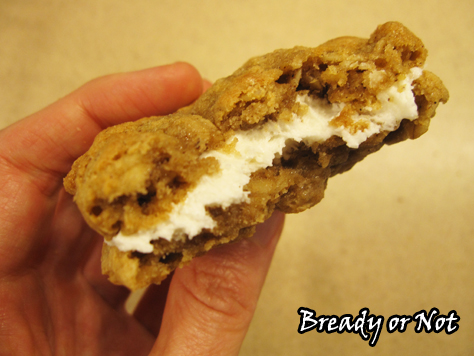 Bready or Not: Oatmeal Cream Pies
These taste like Little Debbie's Oatmeal Pies, but incredibly fresh. The cookies are chewy, and the filling is perfectly sweet--like a fluffier Oreo filling. These are time-consuming to make simply because of the sheer number of cookies. Modified from Taste of Home Feb/March 2001 issue.
Ingredients
Cookies:
1 1/2

cups

shortening

2 2/3

cups

brown sugar

packed

4

large eggs

2

teaspoons

vanilla extract

2 1/4

cups

all-purpose flour

2

teaspoons

ground cinnamon

1 1/2

teaspoons

baking soda

1

teaspoon

salt

1/2

teaspoon

ground nutmeg

4

cups

old-fashioned rolled oats
Filling:
3/4

cup

shortening

3

cups

confectioners' sugar

sifted

7

oz

marshmallow creme

1 jar

1 - 3

Tablespoons

milk

or half & half
Instructions
Preheat the oven at 350-degrees. In a large bowl, cream together the shortening and brown sugar until they are light and fluffy. Beat in eggs, one at a time, followed by the vanilla extract.

In another bowl, combine the flour, cinnamon, baking soda, salt and nutmeg; gradually add this dry mix to the creamed mix. Stir in oats. If you're using a stand mixer, you'll probably need to stir the last of the oats in by hand. This is a lot of dough!

Use a tablespoon scoop to dole out the dough onto a cookie sheet, keeping two inches between each spoonful. These will spread.

Bake for 10 to 12 minutes; they brown very fast, so keep an eye on them at the end. Remove them when they are turning golden brown. Let sit on cookie sheet for 10 minutes before transitioning them to a rack to cool.

To make the filling, start by sifting the confectioners' sugar into a large bowl. Add the shortening and marshmallow crème. Add a tablespoon of milk and gradually add more as needed to get it to spreadable consistency. Use a heaping teaspoon to dollop filling onto the base of a cookie. Spread it with a knife, top with another cookie, and press together to get cream to the edges.

End result: about 30 large sandwich cookies.

OM NOM NOM!