I first posted this recipe over three years ago. I'm sharing it again because 1) biscuits are timeless and awesome, and 2) I have much better photographs this time around.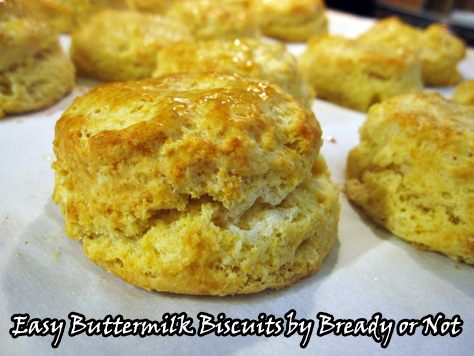 I failed at buttermilk biscuits for years. This grieved me. This recipe, finally, is the one that has repeatedly produced lofty, flaky, perfect biscuits.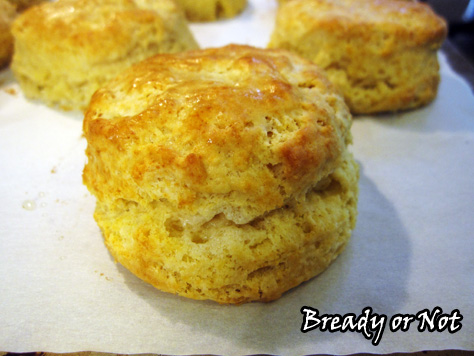 The trick is to keep small chunks of butter throughout the dough. That's what makes flaky layers. Most of the pieces should be pea-sized, and somewhat flat. For that reason, I will start mixing everything together with a big spoon or pastry cutter, but by the end I use my fingers.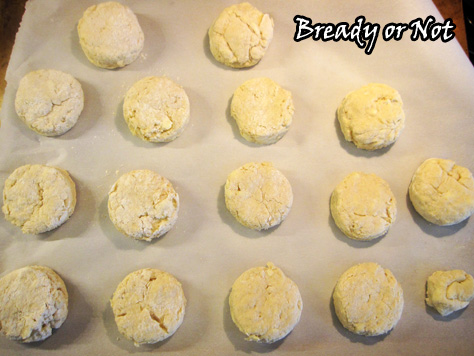 Biscuits are important within my family. My dad's from Alabama. My husband's family has Arkansas roots. Most meals come with a side of bread, and you can't get more southern than baking soda-leavened biscuits.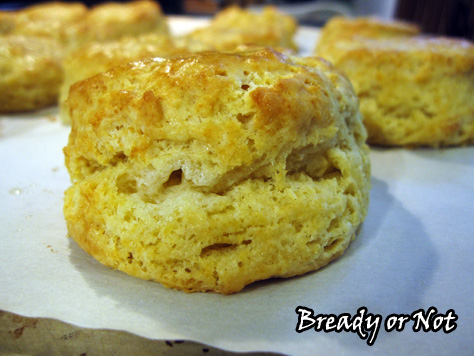 I never keep buttermilk around, but instead rely on sour milk. I have also made these using buttermilk powder and water. The biscuits taste the same with every method–DELICIOUS.
Print Recipe
Bready or Not: Easy Buttermilk Biscuits
These easy biscuits are perfect for morning or night! For the buttermilk, you can substitute sour milk (add a tablespoon of lemon juice or vinegar to milk or half & half, let sit about 10 minutes until it curdles) or buttermilk powder (follow package directions). This will produce a large baking sheet of biscuits. Baked biscuits can also be frozen.
Ingredients
4

cups

all-purpose flour

4

teaspoons

baking powder

1

teaspoon

baking soda

1

teaspoon

salt

12

Tablespoons

unsalted butter

1 1/2 cubes, cold, cut up

1 1/2

cups

buttermilk

or sour milk

1/4

cup

milk

to brush on tops BEFORE baking

2

Tablespoons

unsalted butter

melted, to brush on tops AFTER baking
Instructions
Preheat oven to 450-degrees. Prepare baking sheet by lightly greasing or using parchment or baking mats.

Combine the dry ingredients: flour, baking powder, baking soda, and salt. Gradually cut the butter into the flour mix, using a pastry blender or forks until it's down to pea size.

Add the buttermilk and combine until it just comes together. Don't overwork it! The butter needs to stay in small lumps; that creates the flaky layers. It's often best to use fingers to mix at the end.

Lightly flour about a square foot of counter. Press the dough out to be about an even 3/4-inch thick. Use a 3-inch round biscuit cutter to punch out shapes and place on baking sheets. Brush a little bit of milk on the biscuits.

Bake for 12 to 15 minutes or until they turn golden brown. Remove from oven and immediately brush melted butter on the tops.

OM NOM NOM!