I am here today to preach about fudge inclusiveness as I share a recipe for Five Minute Spicy Mexican Fudge.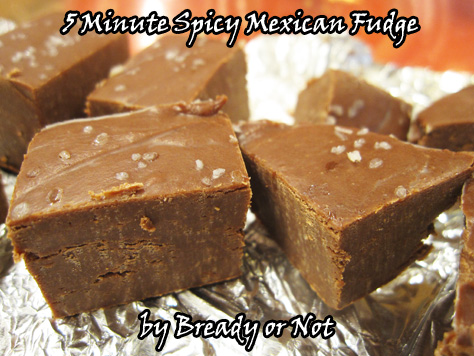 I do not sneer at some fudges as being "better" or "real." To me, it does not matter if the fudge is produced on stove top with a candy thermometer, or with a jar of marshmallow cream, or melted in the microwave.
When it comes to fudge, what matters is this:
Does the fudge taste good? Is the texture pleasing to the palate? Does it make me mutter, "Calories be darned to heck," and reach for another piece?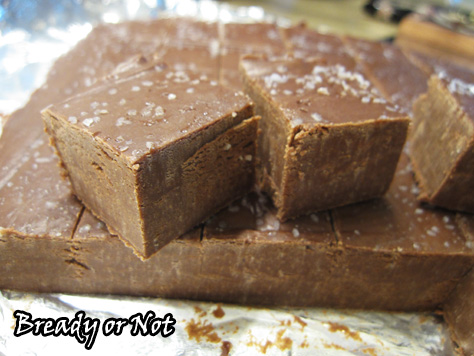 That is the criteria by which fudge should be judged.
That said, I present to you a fudge that is zapped in the microwave and assembled all of five minutes. Let it set in the fridge for a few hours, and ta-da! You have a fudge that will keep well for days. It also holds up well at room temperature if you're serving it at a party.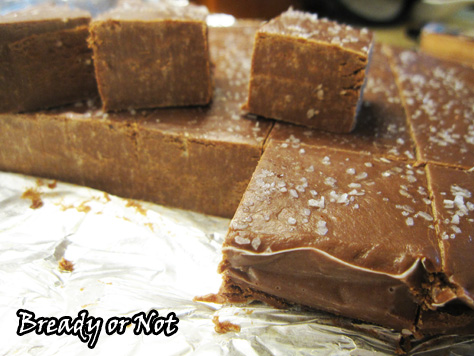 The Mexican spice element comes from cinnamon and cayenne pepper. I used the minimal amount of pepper, 1/8 teaspoon, which provides complexity but absolutely no discernible heat. Tweak the scorch level to your personal taste. Do, however, sprinkle coarse salt to add some lovely contrast.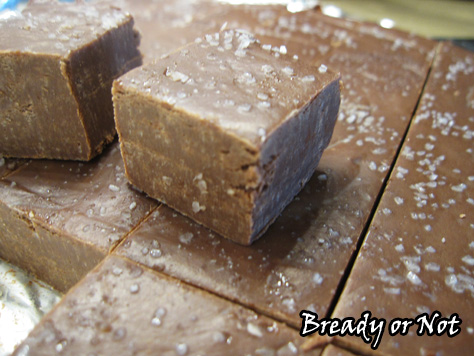 Originally featured at the Holy Taco Church. Recipe adapted from Wine and Glue.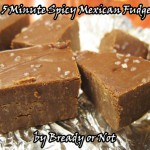 Print Recipe
Bready or Not: Five-Minute Spicy Mexican Fudge
The fudge comes together in mere minutes in the microwave, creating dense, chocolatey fudge that lasts well at room temperature or in longer-term storage in the fridge. Adjust the amount of cayenne pepper to your preferred heat level!
Ingredients
3

cups

milk chocolate chips

about a bag and a half

14

ounce

sweetened condensed milk can

1

tsp

vanilla extract

1

tsp

cinnamon

Mexican cinnamon preferred

1/8 - 3/4

tsp

cayenne pepper

kosher salt

or coarse sea salt
Instructions
Line an 8 or 9-inch square pan with aluminum foil or parchment paper. Lightly grease it.

Use a microwave or sauce pan to melt together the chocolate and sweetened condensed milk. If you're using the microwave, use short bursts of 20-30 seconds and stir well between each.

Once the chocolate mix is smooth, pour in the vanilla extract, cinnamon, and cayenne pepper. (Note that 1/8 teaspoon provides a little flavor, not much heat, so add cayenne and taste to adjust to desired heat level.)

Immediately pour the fudge into the prepared pan. Smooth out to edges and sprinkle salt all over the top. Let set in fridge at least four hours before cutting. Keeps in covered dish in fridge for upwards of a week.

OM NOM NOM!