Bready or Not is full-out bready this week with a recipe that produces two gorgeous braided loaves of pumpkin bread!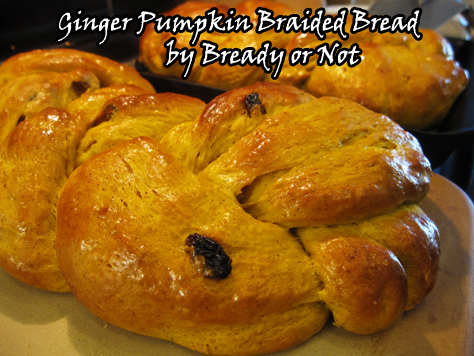 This recipe from King Arthur Flour and was featured in their mailed catalog a while back. Like so many of their recipes, it's an absolute winner.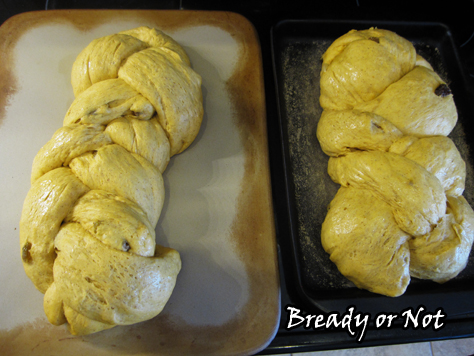 The pumpkin puree doesn't make this bread tacky, even as dough. It incorporates well and adds light taste and vivid color. Diced candied ginger and raisins create variations in texture. The spices play well with everything. Actually, you should make this bread just to smell it as it bakes.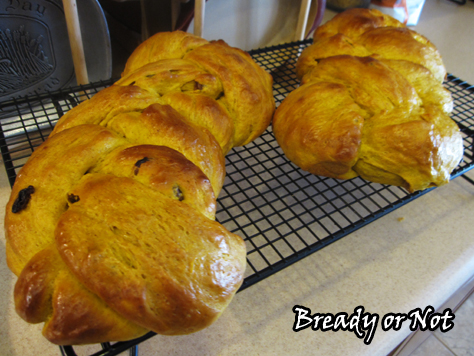 The slices are divine, whether or not you add butter. It would also be delicious in something like bread pudding. YUM.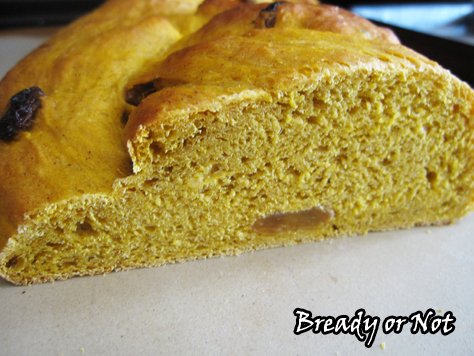 Plus, it's just plain pretty.
Modified from King Arthur Flour.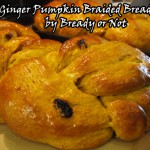 Print Recipe
Bready or Not: Ginger Pumpkin Braided Bread
This recipe yields two large loaves of luscious, braided ginger pumpkin bread! Make in a mixer or by hand; if making in a bread machine, add the ingredients in the order specified by your machine (likely liquids first) and add the raisins and candied ginger after the dough is well mixed. Baked loaves are delicious for days, kept well-wrapped, and can also be frozen. This is modified from a recipe at King Arthur Flour.
Ingredients
4 1/2

cups

bread flour

1

teaspoon

cinnamon

1

teaspoon

ground ginger

1/4

teaspoon

ground cloves

1/3

cup

white sugar

1 1/2

teaspoons

salt

1

Tablespoon

instant yeast

1 3/4

cups

pumpkin puree

1 can

2

eggs

room temperature

1/4

cup

unsalted butter

half stick, melted

1/2

cup

golden raisins

1/3

cup

diced candied ginger

butter

to brush on bread
Instructions
In the large bowl of a stand mixer, combine the flour, spices, sugar, ginger, salt, and yeast.

In a separate bowl, stir together the pumpkin, eggs and melted butter. Add the wet ingredients to the dry ingredients. Continue to stir until the dough begins to come away from the sides of the bowl. Knead the dough for 2 minutes; let it rest for 15 minutes. Knead for an additional 5 to 7 minutes, or until it's smooth. Add the raisins and candied ginger, and continue kneading just until they're incorporated.

Transfer the dough to a lightly oiled bowl. Cover it with plastic wrap, and set it aside to rise for 1 to 1 1/2 hours, until about doubled.

Lightly grease a surface and turn out the dough onto it. Divide the dough in half, then divide each half into three pieces. Roll each piece into a 10-inch log.

Place three logs together on a parchment-lined baking sheet. Braid them together, making sure to pinch together the ends or tuck them underneath. Repeat the process with the other three logs on another baking sheet. Lightly cover them with plastic wrap and let them rise another hour. They should be puffy, not necessarily doubled in size.

Bake the loaves in a preheated 375-degree oven for 25 to 30 minutes, until lightly browned. A cake tester inserted in the center should come out clean. Brush butter over the loaves to give them a nice shine.

Let the braids cool on a wire rack. Serve them warm or at room temperature. Loaves can also be frozen for later enjoyment.

OM NOM NOM!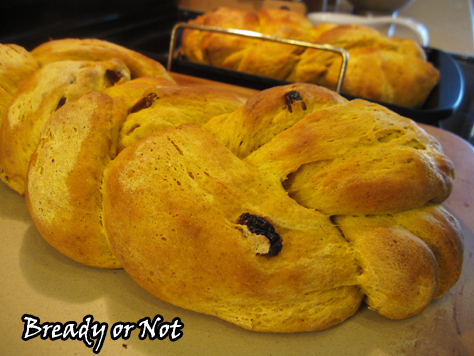 Save