Eat your cheese in delicious, airy form in Gougeres, aka French cheese puffs!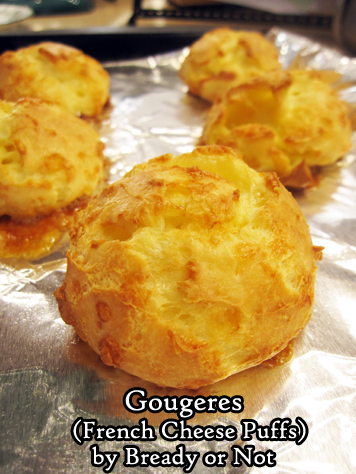 This is a savory version of pate a choux, the dough used for cream puffs and eclairs. In this case, though, you fold in a generous amount of grated cheese.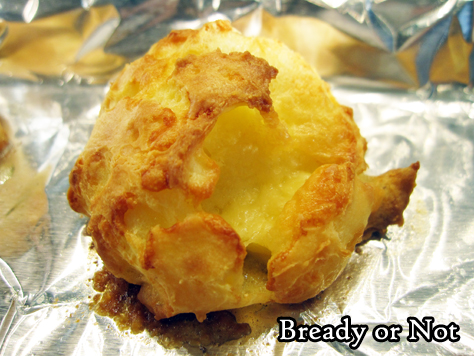 What kind of cheese? Go for ones that grate and melt. Traditional choices would include Gruyere or Comte, or be a rebel like me and use English cheddar. (Scandalous, I know.)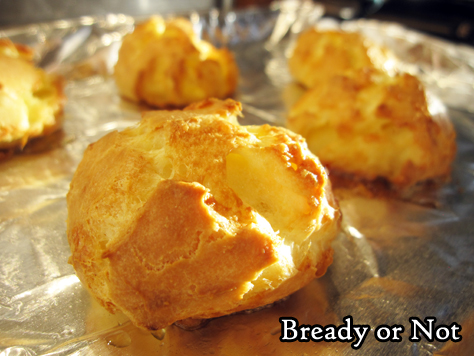 I modified this recipe from Dorie Greenspan's version in her lovely tome Around My French Table. I felt like I learned something new every time I baked up a serving of these puffs, and I wanted to include all that info to prevent people from repeating my mistakes.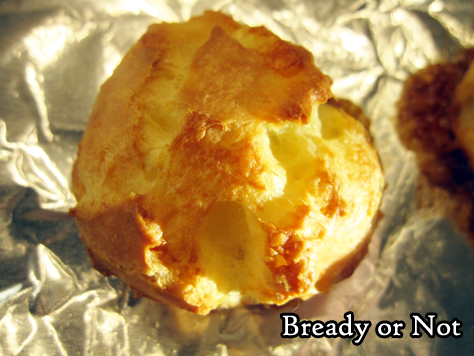 Such as, see the aluminum foil in these pictures? Don't use that. Do parchment instead. I didn't take pictures of how I mangled these gougeres, which were hopelessly stuck to the foil despite a spray of Pam.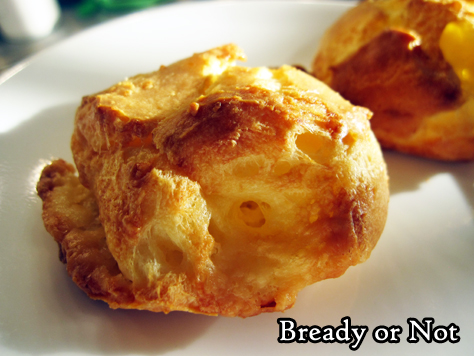 The recipe results in about 30 puffs. These things keep well, unbaked and frozen, but only for about a month. After that, the puff declines and an eggy taste is more pronounced.
Bready or Not: Gougeres (French Cheese Puffs)
This recipe, modified from Dorie Greenspan's version in Around My French Table, combines grated cheese and pate a choux dough. The puffs bake up light, airy, and delightfully cheesy! Do the full recipe at once (it makes 30, using a tablespoon scoop) or freeze unbaked choux for later.
Equipment
baking sheets

parchment paper

tablespoon scoop

mixer
Ingredients
1/2

cup

whole milk

or half & half

1/2

cup

water

8

Tablespoons

unsalted butter

(1 stick) cut into 4 pieces

1/2

teaspoon

salt

1

cup

all-purpose four

5

large eggs

room temperature

1 1/2

cups

coarsely-grated cheese

(6 ounces) such as Gruyere, Comte, Emmenthal, or cheddar
Instructions
If baking now, position racks in oven to be at the top and bottom. Preheat oven at 425-degrees. Line two large baking sheets with baking mats or parchment paper; do not use aluminum foil.

If preparing the gougeres now, with plans to freeze and bake later, line a pan with waxed paper and clear some space in the freezer so the puffs can set.

Place milk, water, butter, and salt in a medium saucepan. Bring to a fast boil. Add flour all at once, then lower heat. Promptly start stirring batter with a wooden spoon or sturdy whisk. The dough will come together, but keep stirring with vigor for another couple minutes until the dough is very smooth and looks dryer.

Drop the dough into the big bowl of a stand-mixer or a bowl where a hand mixer can be used. (Or, if mixing by hand, be ready for an arm work-out.) Let the dough set for a couple minutes, then add the eggs one by one. Beat, beat, beat that batter, fully incorporating each egg before adding the next. If it separates, that's okay--keep beating it! It needs to reach a stage where it is thick and shiny. Beat in the grated cheese.

The batter must be immediately doled out onto pans to either bake or freeze. Use a tablespoon or tablespoon-sized scoop to measure out the batter; if baking, space out about two inches apart.

Slide baking sheets into oven. Immediately lower temperature to 375-degrees. Bake for 12 minutes, then rotate pans from front to back, top to bottom. Continue baking another 12 to 15 minutes, until gougeres are golden and firm. Note that they will not puff until the end of the bake. Serve promptly.

If freezing some or all of the gougeres, freeze on waxed paper, then place in a freezer bag or lidded container. Bake straight from the freezer--do not thaw them! Place on parchment or a greased surface to cook, with gougeres in a central location in the oven. Eat frozen gougeres within a month, as they will otherwise taste increasingly eggy and have less rise.