I'm excited to welcome author K. Bird Lincoln with a special Bready or Not guest post! I've read over 130 urban fantasies and it's hard to wow me these days, but the first book in her Portland Hafu series was a delight. She's here today to celebrate the release of her second book, Black Pearl Dreaming, with a multicultural chocolate cake.
Plus, you can enter a Rafflecopter giveaway for her first book, Dream Eater! Read the recipe, and you might win yourself a great book to pair with this special chocolate cake.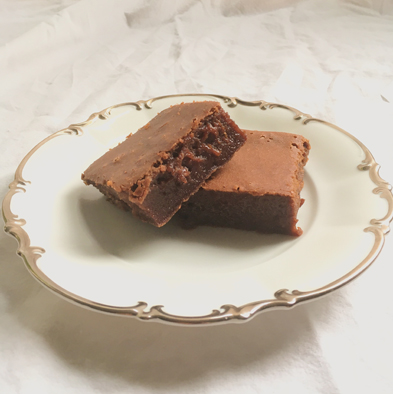 ---
The Portland Hafu Urban Fantasy series features a Japanese American young woman named Koi. She finds out her father isn't entirely human and has to battle evil professors and dragons. The second in the series, Black Pearl Dreaming, has Koi traveling to Japan to seek answers for her father's mental decline.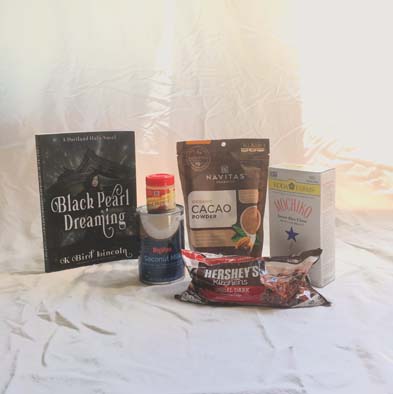 Chocolate is a huge part of Koi's world. Like really important. So important that when love interest, Kitsune trickster Ken, wants to apologize for getting her in trouble in Tokyo, he gives her Oregon Chocolatier Dagoba's Xocolatl Chocolate bar, invoking rosy childhood memories of the only chocolate Koi's father ever deigned to consume.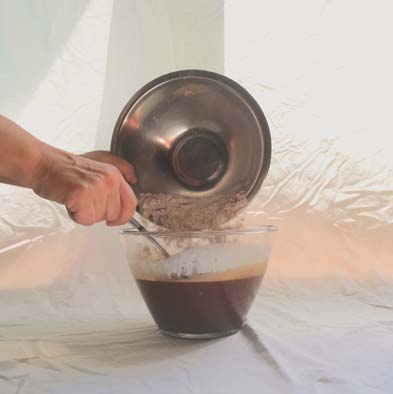 So Xocolatl, possibly "bitter water" from the Mayan language, is the flavor I thought I'd play with for this recipe. Drawing on Koi's happa haole heritage (she's Japanese on her father's side and Caucasian-Hawaiian on her mother's) I thought it fitting to turn Hawaiian Butter Mochi into an homage to my favorite Oregon Chocolatier.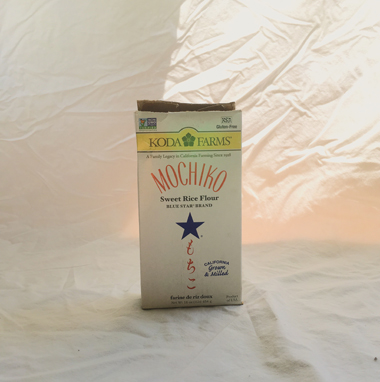 Butter mochi isn't the same thing at all as Japanese mochi celebrated at New Year's and used in making daifuku. Butter mochi is a Hawaiian cake incorporating Mochi flour (sweet rice flour or glutinous rice flour not to be confused with ye olde plain rice flour) milk, and butter to make a squishy, bouncy, chewy rich cake like deliciousness.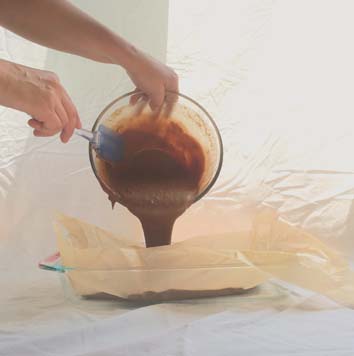 Don't be scared off by the mochi flour. All the rest of the ingredients in this are pretty easy to get, and I even found Mochiko Flour (Koda Farms Brand) at my local Hy-Vee grocery store here in the Southeastern Prairie of Minnesota in the Asian Foods section. And of course, you can order Mochiko on Amazon.
This is Hawaiian soul food with a spicy chocolate twist, y'all. One bite, and you'll be hooked, I promise.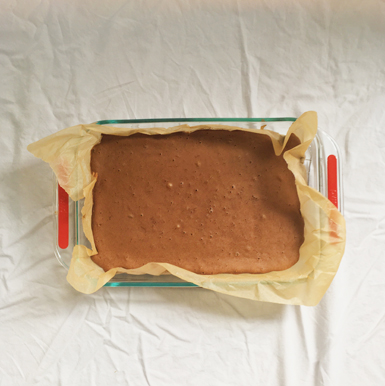 ---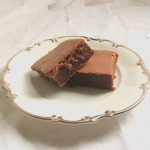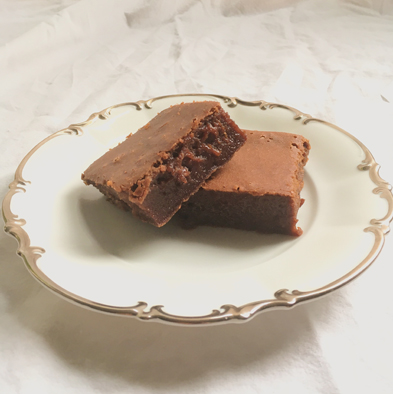 Print Recipe
Bready or Not Guest Recipe: BLACK PEARL DREAMING Spicy Mocha Chocolate Mochi Cake from K. Bird Lincoln
This recipe inspired by K. Bird Lincoln's Portland Hafu Urban Fantasy series combines traditional Japanese and Hawaiian ingredients for a delicious result! Mochiko Flour isn't hard to get in grocery stores worldwide and can also be ordered online.
Ingredients
1/2

cup

butter

3/4

cup

dark chocolate chips

1 1/2

cups

white sugar

16

oz

Mochiko Flour

sweet or glutinous rice flour

2

teaspoon

baking powder

1/2

cup

cacao powder

1

teaspoon

vanilla extract

2

eggs

12

oz

coconut milk

1 1/2

cup

milk

if you don't mind the sugar, use 1 cup condensed milk

Cayenne pepper to taste

I used 1/4 tsp

Cinnamon to taste

I used 1 Tb
Instructions
Grease or insert parchment paper into a 9×13 pan.

Melt the butter and chocolate together. Mix in sugar and vanilla. In a different bowl, mix Mochiko flour, cacao powder, baking powder, cinnamon, and cayenne. Beat in 1/2 of the Mochiko flour mixture, eggs, and coconut milk. Add in another 1/2 of the Mochiko flour mixture, 11/2 cup milk and beat until all flour and milk is added and mixed in until smooth.

Pour into pan and cook at 350 deg F for 45-55 minutes.

Let cool completely. Cut with a plastic knife or wet your knife between cuts.
---
---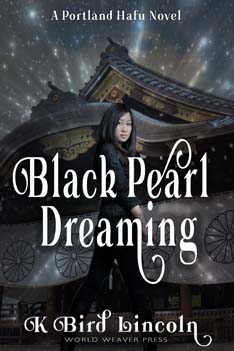 Koi visits Japan looking for answers and instead is forced to make an impossible choice.
With the help of powerful new friends, Koi defeated her dragon enemy in Portland. Now, no longer able to deny her dream-eating powers or the real reason for her father's mental decline, she flies to Tokyo with her new Kitsune love, Ken, and the trickster Kwaskwi, seeking answers. But secrets from Ken's past and Kind politics threaten to unravel their newfound trust and someone in Tokyo is desperate to kidnap a Baku. Koi must untangle a long history of pain and deceit in order to save her father, an imprisoned dragon, and herself.
"I absolutely got sucked in by the way several mythologies were mixed with modern-day and WWII history to form a cool, surprising, and action packed plot. "
— Pat Esden, author of The Dark Heart and Northern Circle Coven series.
"In Black Pearl Dreaming, Koi is a delightfully watchable heroine in way over her head. She struggles to figure out whom to trust, where she can get good coffee, and what exactly she should do about this enormous sleeping dragon, in this fast paced paranormal intrigue set
in a vividly detailed contemporary Japan."
— Tina Connolly, author of Ironskin and Seriously Wicked series.
World Weaver Press
Amazon
Barnes and Noble
iTunes/Apple iBooks
Kobo
K. Bird Lincoln is an ESL professional and writer living on the windswept Minnesota Prairie with family and a huge addiction to frou-frou coffee. Also dark chocolate– without which, the world is a howling void. Originally from Cleveland, she has spent more years living on the edges of the Pacific Ocean than in the Midwest. Her speculative short stories are published in various online & paper publications such as Strange Horizons. Her medieval Japanese fantasy series, Tiger Lily, is available from Amazon. World Weaver Press released Dream Eater, the first novel in an exciting, multi-cultural Urban Fantasy trilogy set in Portland and Japan, in 2017 and will release the sequel, Black Pearl Dreaming, October 2018. She also writes tasty speculative fiction reviews on Amazon and Goodreads. Check her out on Facebook, join her newsletter for chances to win chocolate and ebooks, or stalk her online at kblincoln.com