I'm happy to welcome Pat Esden to Bready or Not again. You might recall she visited last year to share a recipe for Popovers as she celebrated the release of her first book, A Hold On Me. Today she shares a quintessential Maine recipe for Blueberry Cake! Her second book, Beyond Your Touch, is a new adult paranormal romance that came out August 30th. We'll start things off with an interview to learn about her Dark Heart series.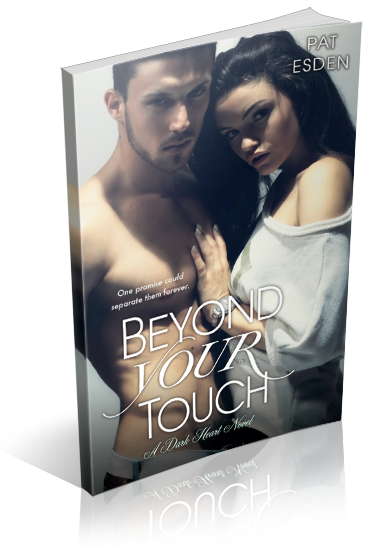 You sent a lovely blueberry recipe. YUM. Can you explain how this ties into your books' world?
Both A HOLD ON ME (Dark Heart book #1) and BEYOND YOUR TOUCH (Dark Heart book #2) are for the most part set on the Maine seacoast, a prime area for both commercial and wild blueberries. The main character, Annie Freemont, and her family often have blueberry muffins for breakfast. The cake recipe I'm going to share is something they'd have at teatime for sure.
Also Annie's love interest, Chase, is a blueberry fanatic. He was born in Maine, but was kidnapped as a child and raised in the djinn realm until he escaped in his late teens. During his years of captivity, Chase often went hungry. As a result, having edible berries growing right outside his cottage is not only a tasty treat for him, it's also emotionally comforting. In reality, he's a bit of a blueberry glutton.
You do a great job of capturing the new adult voices in A Hold on Me and Beyond Your Touch. Do you have advice for other writers who are working on voice in new adult fiction?
New adult is a category of fiction where the main character and point of view are a person or persons between the age of nineteen and twenty-six. It's not a novel written through the eyes and sensibilities of someone looking back on that stage of their life. It's that sensibility that is most vital to remember when you're writing new adult. The motivations and choices of people in that age range will vary, but they are not the same as a younger teenager who has less life experience in general or an older person who has more experience. It's important for a writer to put themselves in the mindset of being that age and to look at each choice and reaction the character(s) make to be sure they are appropriate for a new adult.
What has been your greatest challenge in working on your Dark Heart series?
The Dark Heart series consists of three novels. The biggest challenge for me has been swapping between books during the various editing and marketing stages. For example: in the middle of drafting book 3, I received notes from my editor on book 2. I had to put book 3 aside for a month to do edits on book 2. Once book 2 was turned in, I went back to book 3. But I had to swap again and focus on book 1 when it was released. LOL. It's crazy making!
Thanks again!
Thank you as well. I love visiting.
---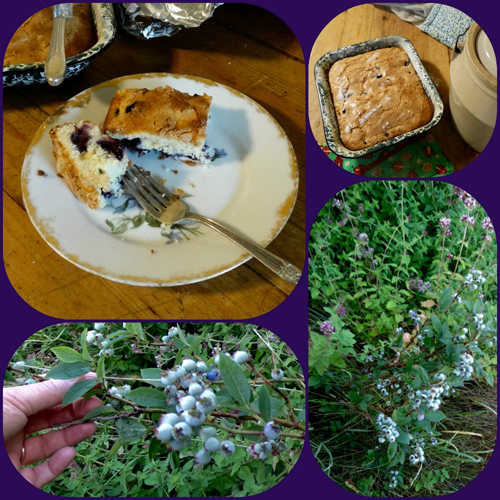 Old Fashion Blueberry Cake
Ingredients:
2 eggs separated
1 cup sugar
1/2 cup shortening
1/4 teaspoon salt
1 teaspoon vanilla extract
1-1/2 cup flour
1 teaspoon baking powder
1/2 cup milk
1-1/2 cups fresh blueberries
Beat 2 egg whites until stiff, and set aside.
Cream together shortening, vanilla, sugar, and two egg yolks.
Sift flour and baking powder together. Add to cream mixture alternating with milk.
Fold in egg whites and blue berries.
Pour into 9" pan (greased and floured) and sprinkle top lightly with sugar.
Bake at 350 degrees for 50 minutes.
This is a traditional New England dense desert or breakfast cake. Just a touch lighter than pound cake. No frosting needed.
---
BEYOND YOUR TOUCH (book #2 Dark Heart series) was released August 30th
She wants more than he can promise.
His desires could lead to betrayal.
But without each other, neither can survive the dangers ahead.
Annie Freemont knows this isn't the right time to get involved with a man like Chase. After years of distrust, she's finally drawing close to her estranged family, and he's an employee on their estate in Maine. Though she never intended to stay on the estate for long, her father's illness and the mysteries surrounding her family made leaving impossible. And now with the newfound hope of rescuing her long-missing mother, Annie's determined to be involved with the family's plans one way or another.
If only she could keep her mind off Chase and focus on the impending rescue. But there's something about the enigmatic Chase that she can't resist. And she's not the only woman. Annie fears a seductive stranger who is key to safely freeing her mother is also obsessed with him. As plans transform into action and time for a treacherous journey into a strange world draws near, every move Annie makes will test the one bond she's trusted with her secrets, her desires—and her heart.
---
PAT ESDEN is an antique-dealing florist by trade. She's also a member of Science Fiction and Fantasy Writers of America, Romance Writers of America, and the League of Vermont Writers. Her short stories have appeared in a number of publications, including Orson Scott Card's Intergalactic Medicine Show, the Mythopoeic Society's Mythic Circle literary magazine, and George H. Scither's anthology Cat Tales.
Her new adult paranormal novels, A HOLD ON ME (book #1 in the Dark Heart series) and BEYOND YOUR TOUCH (book #2 Dark Heart series) are available from Kensington book. REACH FOR YOU (book #3 Dark Heart series) will be released in 2017.
#SFWAPro