I'm happy to welcome author Sherrida Pope (who I know better as Nancy Fulda) to Bready or Not today! She has two darling new children's books out, one for Halloween and one for Thanksgiving. Owls and cats, you can't go wrong with that. Other things that can't go wrong: anything combined with Nutella. Sherrida has a recipe for Peanut Butter Nutella Cookies that look absolutely delicious!


The Cat who Ruined Thanksgiving
---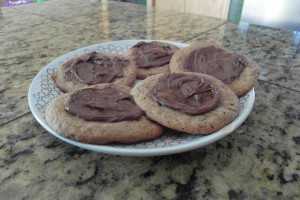 I still remember the first time I tasted Nutella. It was during December in the 1980's, surrounded by holiday trappings and a box of intriguing food items my sister had brought back from Germany. What was this strange substance, this… spreadable chocolate?
It was love at first bite. But you couldn't find Nutella in California stores back then, or at least, we couldn't, and so my newfound affinity had to wait on the back shelf until my own trip to Germany nearly a decade later. Happily, globalization has since rectified many of the gaps on my store shelves, and I'm pleased to report that I can now find Nutella in nearly every major supermarket in my area.
I hope you can, too, because the only thing better than Nutella is Nutella combined with something superbly delectable. Think about it: Nutella is yummy. Peanut butter is yummy. Both together is… well, around my house it's a recipe for an empty plate and a lot of cookie crumbs.
Peanut Butter Nutella Cookies
½ cup margarine or butter
½ cup peanut butter
1 cup all-purpose flour
1 cup brown sugar
1 egg
½ tsp baking powder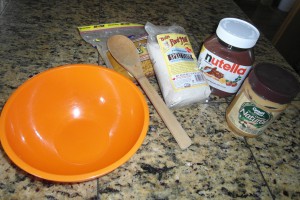 Beat margarine and peanut butter with an electric mixer on medium to high speed for 30 seconds. Add ½ cup of the flour, sugar, egg, and baking powder. Beat until thoroughly combined. Add remaining flour.
Form dough into 1-inch balls. (If dough is too sticky to shape easily, then add extra flour or refrigerate for 15-20 minutes.) If desired, use a spoon to create a small depression in the center of each cookie.
Bake at 375° for 7-9 minutes. Spread Nutella across the top of warm cookies.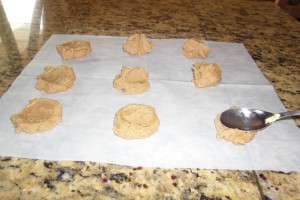 ---

Sherrida Pope, who also publishes as Nancy Fulda, lives and writes in the scenic area near Utah Lake. She has three children, a pet hedgehog, and a transient appreciation for classical music. Find her engaging chapter books at Amazon, Barnes & Noble, and other online retailers.