This wonderful soup has been one of my cool weather dinner staples for several years!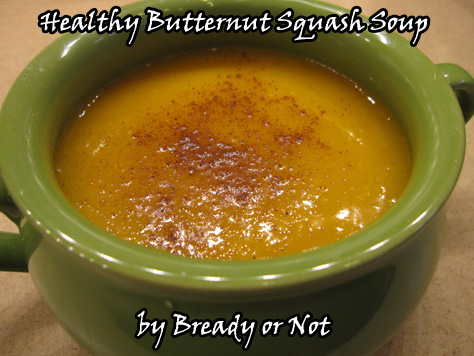 I love, love this soup. It takes a little bit of prep work but then feeds me for a few days. It's both delicious and healthy. Butternut squash is one of my favorite roast vegetables, and this just blends it into liquid form.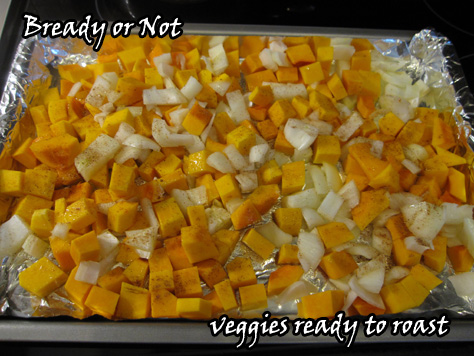 Butternut squash can be intimidating to slice up. I recommend the technique shown at The Kitchn. Basically, you slice off the ends, then take off the rind, de-seed, then dice the orange flesh.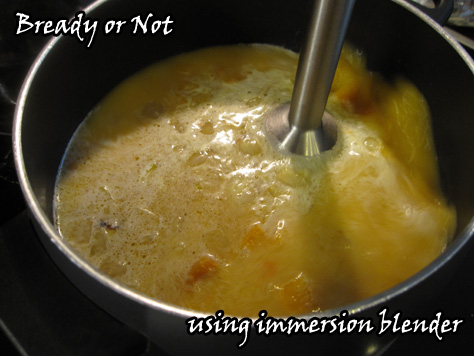 This recipe freezes really well, too. I like to measure it in 2-cup increments and seal it up in quart-size freezer bags; I can freeze them flat so they take up almost no room.
The soup's flavor improves after being in the fridge for a day, too. The roasted vegetables really come through. I like to add spices like nutmeg, cinnamon, or pumpkin spice mix, and a few pepitas for texture.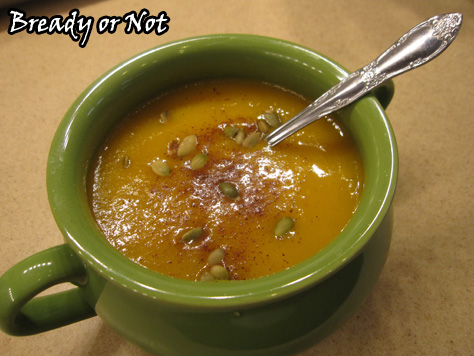 It's a bowl of stomach-warming happiness.
Modified from Lick My Spoon.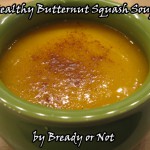 Print Recipe
Bready or Not: Healthy Butternut Squash Soup
This nutritious soup largely consists of squash, onion, and broth. It takes a little bit of time to roast, but once it's made the soup tastes even better after resting in the fridge. It's also great to freeze! Modified from Lick My Spoon.
Ingredients
2 - 3

pound

butternut squash

1

yellow onion

32

ounce

chicken broth

or vegetable broth, 1 box or 2 cans

2

Tablespoons

olive oil

salt

Hawaiian salt recommended

nutmeg

or cinnamon, or pumpkin spice mix, to taste

pepitas

or chopped pecans, optional
Instructions
Preheat oven to 450-degrees. Prepare a large rimmed baking sheet by lining it with foil.

Peel, de-seed, and dice the squash into roughly 1-inch cubes. It doesn't need to be neat--they will all be blended in the end. Peel and dice up the onion.

Place the squash and onion on the baking sheet. Drizzle or spray olive oil over everything. Add salt and other spices like cinnamon or nutmeg and toss to coat.

Roast in oven for about 25 minutes. Turn over the squash, then cook another 15-25 minutes, until the squash is just browning and is fork-tender.

If you want to complete the soup later, just stick the squash in the fridge. Or continue...

In a large pot, bring the broth to a simmer. Add the roasted squash and onion. Carefully puree using an immersion blender, or blend in small batches in a blender or food processor. Use caution: you're working with hot liquid! Process until the soup is smooth, and bring to a simmer again.

Serve in bowls with an additional sprinkling of spices and perhaps some pepitas or chopped pecans on top! Leftovers keep sealed in fridge upward of a week; the taste actually improves after being in the fridge for a day. It can also be frozen in freezer bags or plastic dishes. Reheats quickly in the microwave or on the stove.

OM NOM NOM!