It's my birthday (Whoo hoo! Thirty-six!) so let's bake up something that's likewise blonde and nutty.
These blondies aren't purely sweet things because they are cut by bittersweet chocolate. The pecans add a crunch that's a great contrast to the smoothness.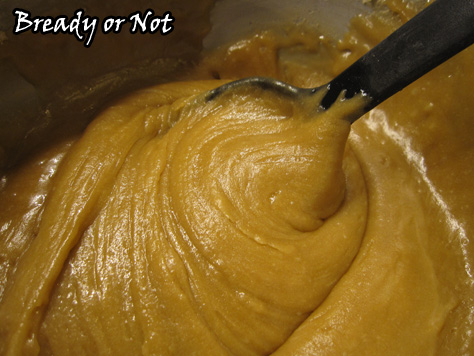 Actually, the word "smooth" is the best way to describe these bars. The batter is very thick and reminds me of caramel candy. It bakes up in a smooth layer. It cuts smoothly, even with the pecans in there. The blondies almost melt in your mouth, too.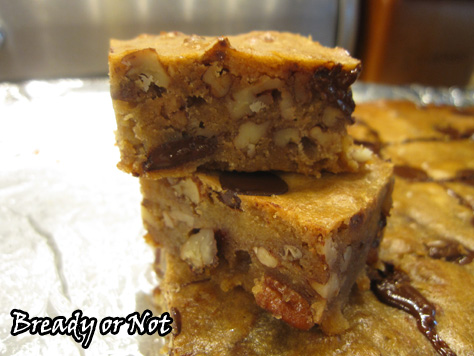 Plan ahead to make these because the batter needs to cool in stages because you 1) don't want to scramble the eggs, and 2) you don't want the chocolate chips to melt when you stir them in (not like this would be a total disaster, but still).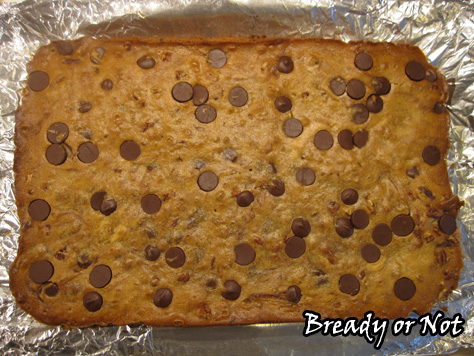 I'm not sure how long these stay fresh. My husband took them to work and they were GONE in hours. I imagine the bars would freeze well between layers of wax paper, but I haven't tried that yet.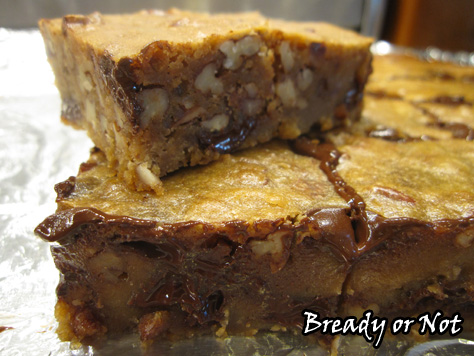 Oh darn. I guess I should make them again.
Greatly modified from Martha Stewart Living.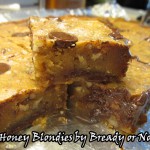 Print Recipe
Bready or Not: Honey Blondies
These blondies are sweet and smooth with lovely contrast from pecans and bittersweet chocolate. Modified from a recipe in Martha Stewart Living.
Ingredients
1

cup

unsalted butter

2 sticks

2/3

cup

honey

1 1/2

cups

brown sugar

packed

2 1/2

cups

all-purpose flour

2

eggs

room temperature

1 1/2

Tablespoons

vanilla extract

2

teaspoons

coarse salt

1

cup

pecan pieces

8

ounces

bittersweet chocolate
Instructions
Melt butter and honey in a large saucepan. Stir in the brown sugar. Remove from heat and set aside to cool for about 20 minutes.

Since the contents are still likely a bit warm, add some of the flour and stir in to cool things off. Stir in the eggs and vanilla extract followed by the rest of the flour and the salt. Mix until just combined, and let it continue to cool about 30 minutes.

Preheat the oven to 350-degrees. Prepare a 9x13 pan by lining with foil and spraying with Pam or buttering the surface well.

Mix the pecan pieces and chocolate into the batter, then spread into the pan.

Bake for about 30 minutes; the edges will just be turning brown. Let the blondies cool completely on a wire rack. Use the foil to lift them out to cut into squares. Store in an airtight container.

OM NOM NOM!