I found a lemon muffin recipe and thought, hey, I'll rewrite this to be original and I'll do mini muffins instead!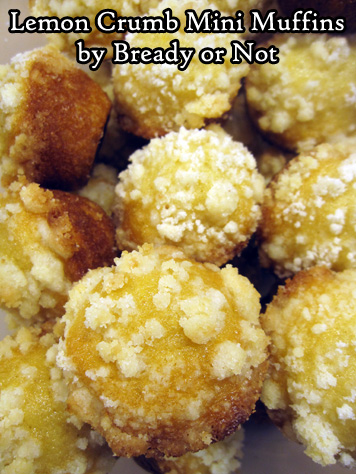 Um. Yeah. The original recipe made a couple dozen muffins. My version? 113.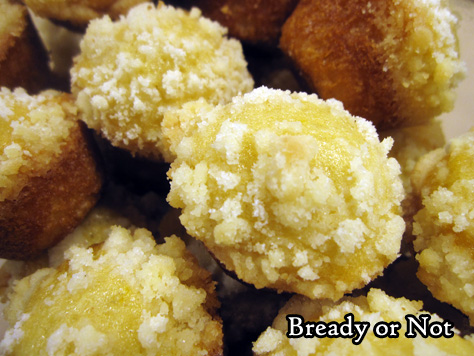 I swear, I felt like I had created a Bowl of Holding. There was so much batter. So very, very much batter.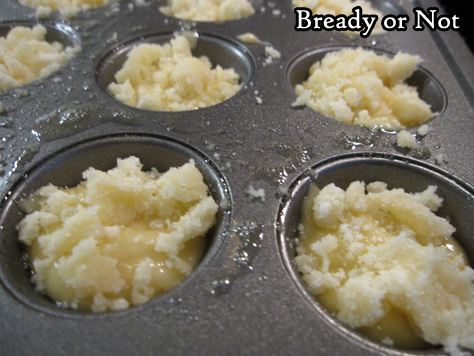 The good news? My efforts were not in vain. The muffins were delicious. They were lemony and light, like puffs of flavor, the perfect remedy to the doldrums of winter.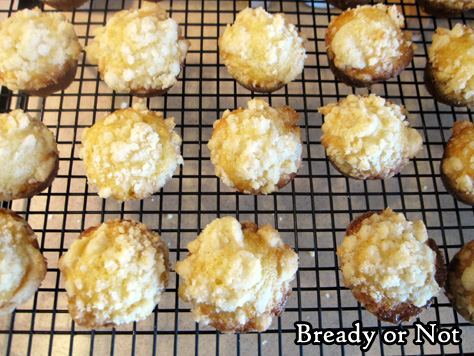 The recipe itself is pretty straightforward. Grease your mini muffin pans well (make SURE you have two pans to bake at once) and don't overfill them. A touch of crumb topping makes them prettier and extra yummy.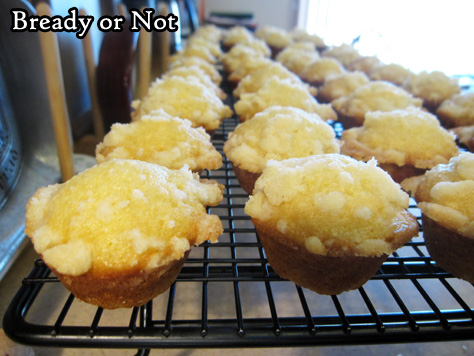 Save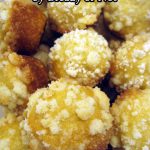 Print Recipe
Bready or Not: Lemon Crumb Mini Muffins (potluck-sized)
If you need to make a lot of delicious lemony mini muffins, this is the recipe for you! This recipe makes about 113 little muffins. The use of two mini muffin pans that fit side-by-side in the oven is essential here, or you'll be baking these muffins until the end of time.
Ingredients
Crumb topping:
1 1/4

cups

all-purpose flour

1

cup

white sugar

1/4

teaspoon

salt

1/2

cup

unsalted butter

1 stick, melted
Mini muffins:
4

eggs

room temperature

2

cups

white sugar

1

cup

vegetable oil

1

large lemon

zested and juiced

1

teaspoon

lemon extract

1

teaspoon

vanilla extract

2

teaspoons

baking soda

1

teaspoon

salt

16

ounce

sour cream

2 cups

4

cups

all-purpose flour
Instructions
Preheat oven at 375-degrees. Prepare two mini muffin pans with a heavy dose of nonstick spray.

Combine the topping ingredients with a fork. Set aside.

In a very large bowl, mix the eggs until they are thick and frothy. Add the sugar and oil, and beat until they become creamy. Add the lemon zest and juice, both extracts, baking soda, and salt.

At this point, if you are using an electric mixer, you likely need to switch to a big spoon because of the sheer amounts involved. Add the sour cream and flour, pouring in small increments of each to gradually combine everything. Make sure to scrape the bottom of the bowl. The batter might be somewhat lumpy.

Use a teaspoon scoop to add batter to each muffin cup. Do NOT fill over 3/4 of each cup--these will grow in the oven! Use a spoon to add crumb topping to the tops.

Bake for 11 to 12 minutes, until muffins in the middle pass the toothpick test. Let them cool about 10 minutes, then use something like a chopstick to pry out each muffin to set on a cooling rack.

Heavily apply nonstick spray to both pans again, then repeat the process. Using two pans, this will take three batches to bake.

Store muffins in airtight containers at room temperature. They can also be frozen for weeks.

OM NOM NOM!