When you need maple goodness whipped up quickly with no baking involved, here's your go-to recipe: Maple Nut Butter No-Bakes.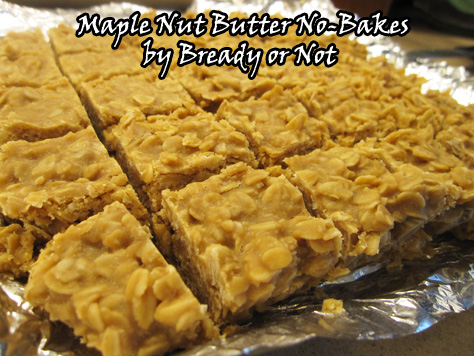 I had PB & Co Mighty Maple Peanut Butter, so I went with that to add some maple oomph. You can use various nut butters here, but avoid the natural kind where the oil separates. That would make these too dry and probably make it turn out weird.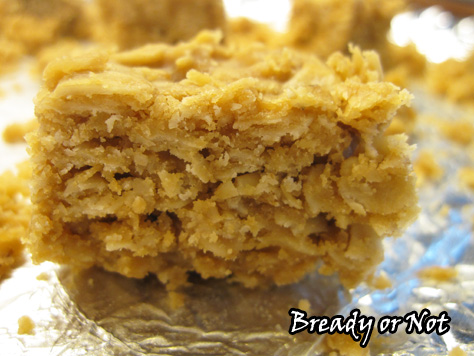 I made these because I needed to create goodies on a quick timeline, so I put them in the fridge straight away, chilled them for an hour and a half, then sliced them. The bars crumbled some, I think because I didn't chill them long enough. They were still mostly intact, though, and tasted fabulous.
Therefore, I highly recommend these get to cool down at room temp and then have a few more hours in the fridge, just to solidify things and make the end result a little prettier.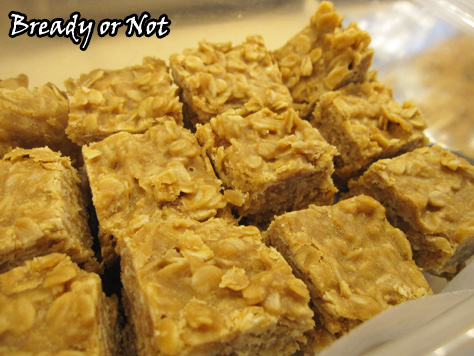 The taste is what matters most, though. If you love maple, you must make these bars. It's maple candy. Sweet, chewy, maple candy. With autumn nigh, these are perfect to whip out for any of the forthcoming holidays!
Modified from Maple Almond No-Bakes at Lovely Little Kitchen.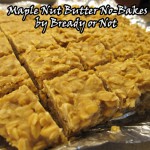 Print Recipe
Bready or Not: Maple Nut Butter No-Bakes
These no-bake bars come together in about ten minutes to create a candy that's a fusion of maple, nut butter, and oats! These things are seriously sweet and delicious, and will keep for weeks if sealed in the fridge.
Ingredients
1/2

cup

unsalted butter

1 stick

1 1/2

cups

white sugar

1

cup

almond butter

or peanut butter; not natural, it's too dry

1/4

cup

milk

almond milk works

1/2

teaspoon

maple flavor

3

cups

old fashioned rolled oats
Instructions
Prepare an 8x8 or 9x9-inch baking dish by lining it with foil or parchment paper then greasing it. Measure out the maple flavor and oats so they are ready to add quickly.

In a medium pan, bring the butter, sugar, almond butter, and milk to a boil over medium high heat. Stir frequently. Bring the mix to a full boil for one minute, stirring constantly, and then removed from the heat and stir in maple extract. Immediately add the oats and stir thoroughly to coat everything.

Glop the mixture into the baking dish. Cool at room temperature and then chill in fridge for several hours until it is firm.

Use the foil or parchment to lift out the bars for easy cutting. Best served chilled.

OM NOM NOM!