Every time I make truffles, I always end up raving to my husband, "I HATE MAKING TRUFFLES."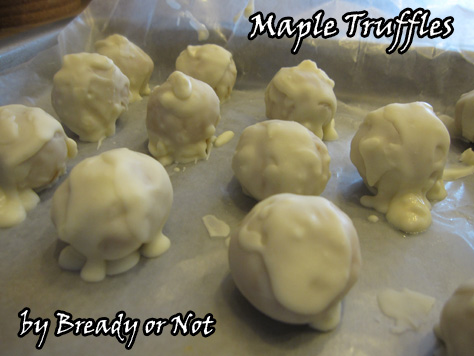 The chocolate is always so slow to melt. I usually end up burning myself in some small way. My truffles never look as pretty as other truffles I see online (yes, I'm judging myself by my truffle beauty, dangit).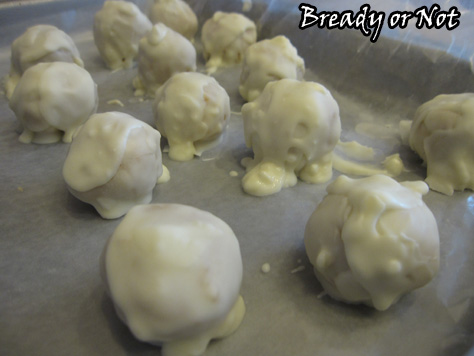 However, I always end up making truffles again because my husband's co-workers go absolutely bonkers for them. They are referred to as "Mrs. Cato's Balls." Yeah. Go ahead and snicker.
The standard home truffle uses Oreos. This is my unique version, done using maple creme cookies. You could also substitute Golden Oreos and add more maple flavor.
Everything is better with maple.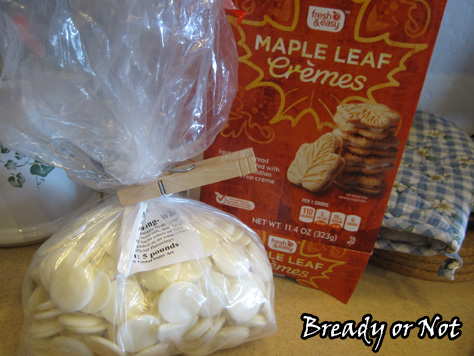 Print Recipe
Bready or Not: Maple Truffles
A sweet no-bake treat perfect for parties and potlucks!
Ingredients
A Bready or Not Original Recipe
8

ounces

cream cheese

1 block

1

package of maple creme cookies

or substitute Golden Oreos, and add more maple flavor

3/4

teaspoon

maple flavor

11

ounces

white chocolate

or white candy melts
Instructions
Bring cream cheese to room temperature, or place unwrapped block in a bowl and zap in microwave until softened, about 20 seconds.

Pulverize the cookies. Use a blender to rend them to crumbs, or put cookies in a gallon zipper bag and crush them with a rolling pin.

In a large bowl, combine soft cream cheese and crumbs. Begin to mix together, add maple flavor, then mix until completely combined and fully beige. Arrange a shelf in your freezer that will fit a mid-size cookie sheet; line the cookie sheet with wax paper. Use a tablespoon or teaspoon scoop or a spoon to form truffles, then use hands to compress the balls more. Set them all on the wax paper, then place in freezer for at least 30 minutes.

Choose your method of melting the chocolate: the microwave or a double boiler. The latter has the advantage of keeping the chocolate warm. Carefully dip the cookie balls into the chocolate to completely cover. Let set. Often it's best to do a second coat.
With any leftover chocolate, use a spoon to form lumps on the wax paper, and add nuts, candies, etc, or dip crackers or fruit from your kitchen.
Keep truffles stored in fridge; they will stay good for weeks.