Nothing says summer to me quite like blueberry bars, and this version has a delectable crumb topping and loads of blueberries!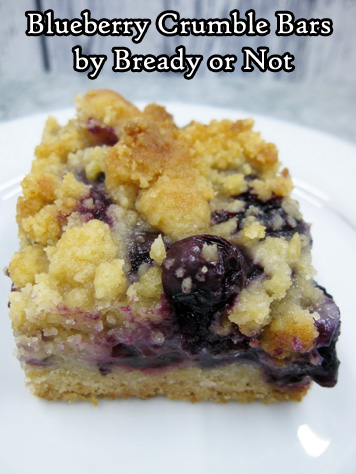 This is really the best kind of fruit and shortbread combo. The bottom and top acquire a buttery crispness as they bake, the perfect contrast for the oozy, sweet berries.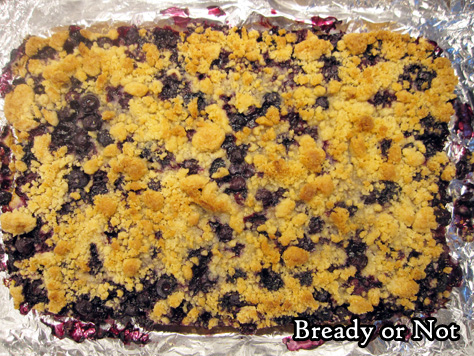 I am frustrated when recipes only list blueberries by cup measurement, which is useless when I'm in the grocery store trying to figure out how much to buy in pints or ounces. I can say that 4 cups or 20 ounces is what you need for this recipe.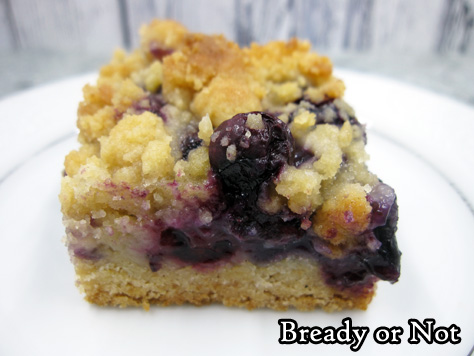 Be careful at the final stage when it's time to slice into bars. The blueberries can stick to the foil quite a bit. Therefore, be sure to generously grease the pan prior to baking, and gently pry the foil away when ready to slice.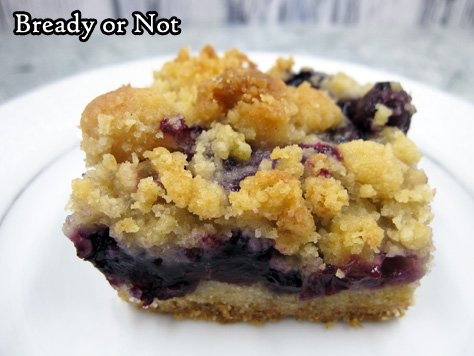 The recipe makes a full 9×13 pan, so be sure you have a lot of people present to eat them. These would be very dangerous treats to keep around when home alone, just sayin'.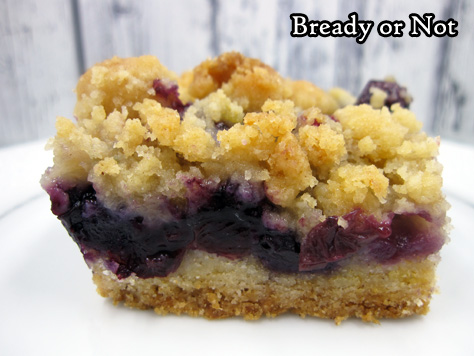 Bready or Not Original: Blueberry Crumble Bars
This recipe makes a 9x13 pan full of delicious bars! The buttery shortbread-like crust is perfectly paired with a generous layer of oozy blueberries.
Ingredients
3

cups

all-purpose flour

1

cup

white sugar

divided

1/2

cup

brown sugar

packed

1

teaspoon

baking powder

1/4

teaspoon

salt

pinch

ground cinnamon

1

cup

unsalted butter

2 sticks, room temperature

1

egg

3

teaspoons

cornstarch

4

cups

fresh blueberries

20 ounces
Instructions
Preheat oven at 375-degrees. Line a 9x13 pan with foil and apply nonstick spray. Wash the blueberries and remove any stems or smashed berries, then gently blot dry with a towel.

In a big bowl, mix together the flour, 1/2 cup white sugar, the brown sugar, and baking powder. Add the salt and cinnamon. Add the butter and mix until it forms crumbly dough.

Pat about 2/3 of the dough into the prepared pan. A piece of waxed paper and a heavy glass will help compress it into an even layer.

In another bowl, stir together the remaining 1/2 cup white sugar and cornstarch. Gently stir the blueberries to coat. Sprinkle the blueberries over the bottom crust, then crumble the remaining dough evenly over the top.

Bake for 45 minutes, but check at the 30 minute point. If it's looking golden on top, cover it with foil then continue to bake.

Cool at room temperature, then chill in fridge to make it even more cohesive to cut. Use the foil to lift the contents onto a cutting board. Carefully peel back the foil from the edges; a knife might help to hold the bars in place if the blueberry layer is being especially sticky.

Slice into bars. Store in a sealed container in the fridge, with waxed paper between the stacked layers.