Fresh blueberries and gingerbread! This combo never occurred to me before, and wow was I missing out. Find out how good it is when you bake this Blueberry-Gingerbread Loaf.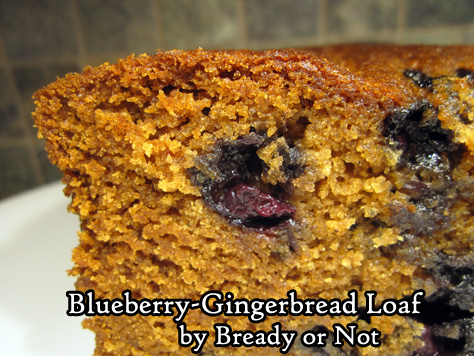 I'm growing increasingly convinced that blueberries can make almost everything better. Case in point: Wensleydale Cheese with Blueberries. DIVINE. This recipe ranks up there, too.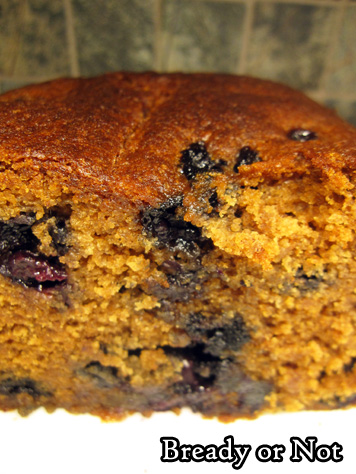 As any gingerbread should be, this loaf is packed with spices that sing of autumn and winter. Blueberries add an incredibly fresh note, a literal burst of flavor that stands apart from the usual tart cranberry.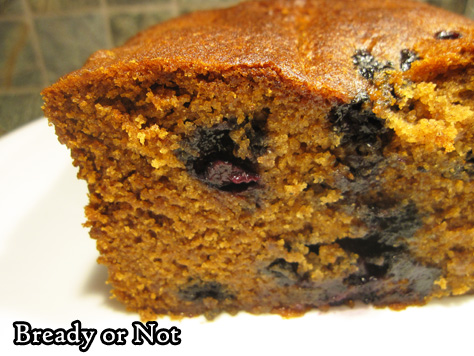 This bread is very moist and tender. It is perfect to slice for breakfasts or snacks, and it doesn't even need an additional pat of butter.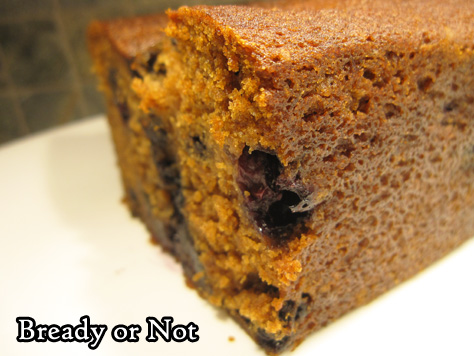 I'm sharing this recipe in December because of the gingerbread/Christmas association, but let me fervently remind you that delicious foods should not be confined to any season. Print this out and save it for when summer blueberries are bountiful and cheap. Heck, even bake the bread and freeze it for later.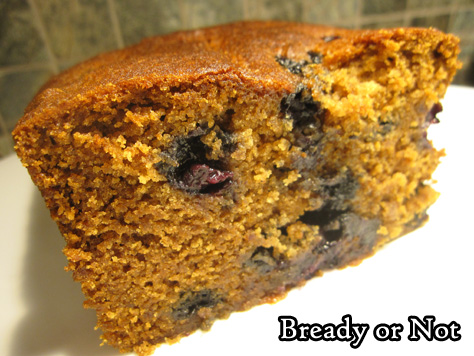 This bread smells so good, though, I bet you'll find it hard to resist a slice or two.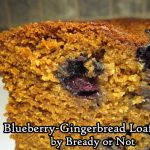 Print Recipe
Bready or Not Original: Blueberry-Gingerbread Loaf
Fresh blueberries and moist, tender gingerbread make a perfect pairing in this loaf that combines the best of summer and autumn.
Ingredients
1/2

cup

fresh blueberries

6 ounce pack

1 1/2

cups

all-purpose flour

or mix in whole-wheat, plus extra flour

2

teaspoons

ground cinnamon

2

teaspoons

ground ginger

1

teaspoon

salt

1/4

teaspoon

ground cloves

1/2

cup

unsalted butter

1 stick, softened

1/2

cup

white sugar

1/2

cup

brown sugar

packed

1

cup

applesauce

1/2

teaspoon

vanilla extract

1

teaspoon

baking soda
Instructions
Preheat oven at 350-degrees. Cut a piece of parchment to fit inside a 9x5 loaf pan, with paper extending up the two long sides to form a sling. Apply nonstick spray or butter to pan, place parchment inside to adhere, then grease paper as well.

Wash and pick through blueberries to remove any stems, smashed berries, or moldy ones. Dry blueberries and gently toss with a couple spoons of flour to coat. Set aside.

In a medium-sized bowl, combine the 1 1/2 cups flour, cinnamon, ginger, salt, and cloves.

In a big bowl, beat butter until creamy. Add both sugars, beating until combined and fluffy. Add applesauce, vanilla, and baking soda. Follow up with flour mixture, mixing until combined. Gently fold in the blueberries. Pour batter into prepared loaf pan.

Bake for 1 hour to 1 hour and 10 minutes, removing loaf only after middle has passed the toothpick test. Cool in pan no more than 20 minutes. THIS IS IMPORTANT, as otherwise the loaf can steam up and collapse! Let loaf continue to cool on a rack.

Keep stored in a plastic bag or plastic wrap for at least two days. Loaf can also be frozen for later enjoyment.