Bready or Not is back with an original recipe for Chewy Honey Chocolate Chip Cookies!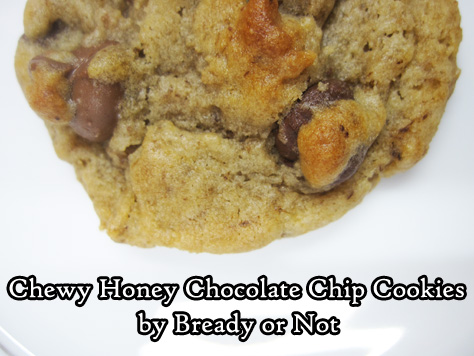 This recipe arose from my need to create a good, basic chocolate chip cookie that could last for weeks to be shipped cross-country. I looked to my staple Chewy Honey cookies for inspiration, and started tweaking.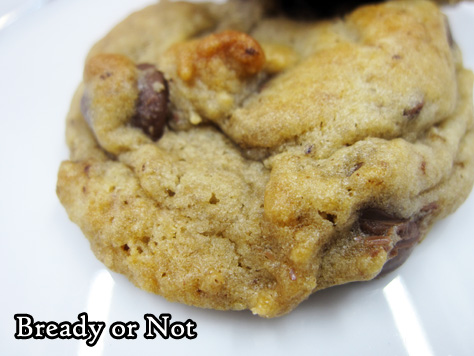 On my first try, the cookies were good but a tad bland. Therefore, I upped the vanilla extract and also added espresso powder. Espresso powder is a secret weapon for anyone who bakes with chocolate, as it deepens the inherent flavor without making it taste like coffee.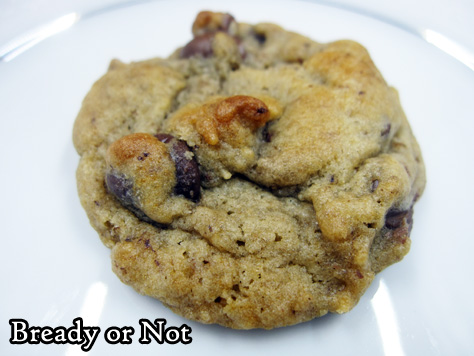 This second version worked in every way. Not only did it taste delicious, but it was perfect to pack and ship, too.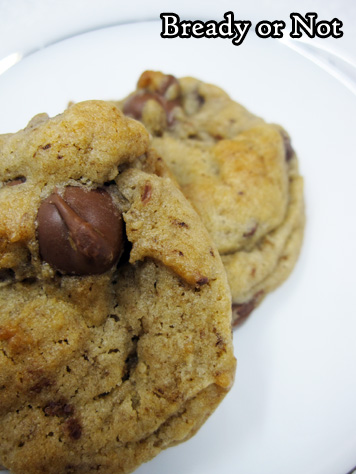 Mind you, I wouldn't do that right now because I live near Phoenix. In June, this isn't a chocolate-friendly place outside of air conditioning!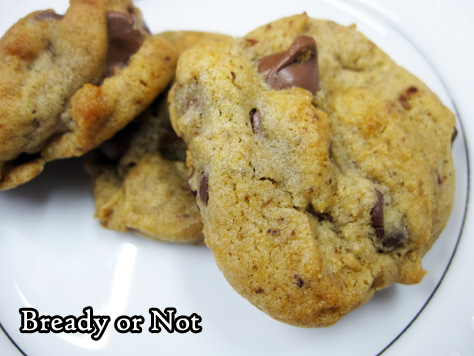 Try my other original Chewy Honey cookie recipes! If you've met me at a con, I've likely offered you the Maple or Snickerdoodle Cookies.
Chewy Honey Maple Cookies
Chewy Honey Snickerdoodles
Chewy Honey Lemon Cookies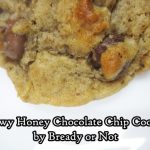 Print Recipe
Bready or Not Original: Chewy Honey Chocolate Chip Cookies
This Bready or Not Original reinvents the chocolate chip cookie using a mixture of flours and corn starch for soft and chewy cookies that stay delicious for weeks in a sealed container. Note that the dough needs to chill for at least a few hours prior to baking.
Ingredients
3/4

cup

unsalted butter

softened

1/2

cup

light brown sugar

packed

1/2

cup

white sugar

2

Tb

honey

1

large egg

room temperature

1

Tablespoon

vanilla extract

1

cup

bread flour

1

cup

all-purpose flour

2

teaspoons

cornstarch

1

teaspoon

baking soda

1

teaspoon

espresso powder

1/2

teaspoon

salt

1

cup

chocolate chips

add a variety!
Instructions
In a large bowl, beat the butter until smooth. Add the sugar and honey and beat until creamy and fluffy, about 3 minutes. Scrape down the sides of the bowl and then mix in the egg and vanilla extract.

In a separate bowl, combine the dry ingredients: bread flour, all-purpose flour, cornstarch, baking soda, espresso powder, and salt. Sift together.

Slowly stir together the wet ingredients and flour mix until just combined. Sprinkle in the chocolate chips. Wrap the dough in plastic wrap and stash in the fridge for several hours or days; dough can also be frozen at this stage.

When ready to bake, preheat the oven at 350-degrees. Use greased stoneware, parchment paper, or silpat mats. The cookie dough, even straight from the fridge, has a soft Play-Doh-like consistency, and will spread when it bakes; keep this in mind when spacing cookie dough.

Teaspoon-sized cookies need to bake 9 to 12 minutes; Tablespoon-sized take 11 to 13 minutes. Let set on cookie sheets for 10 to 15 minutes before moving to a rack to cool completely.

Stored cookies will keep in a sealed container, between waxed paper or parchment layers, for weeks. They are excellent for travel or shipping.

OM NOM NOM!