Basic Scottish shortbread is one of the awesomest things in the world. It's also a blank canvas for variations beyond count. Chocolate chips and a jolt of espresso add extra oomph to this new spin!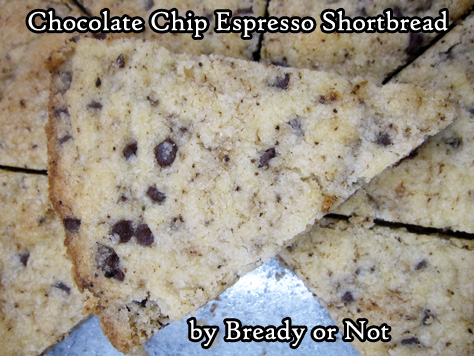 Pride O' Scotland Shortbread was one of the first recipes I considered 'mine' as a teenager. It became the one thing I made each year for our family's Thanksgiving potluck.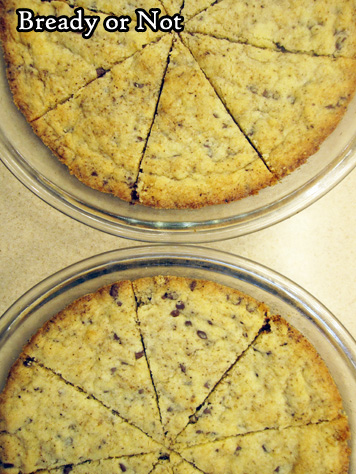 Appropriately, it's also something I made for my husband the very first day I met him when I was 18. (Yes, he was an almost total stranger. Yes, I welcomed him with shortbread. Because that's what I do.)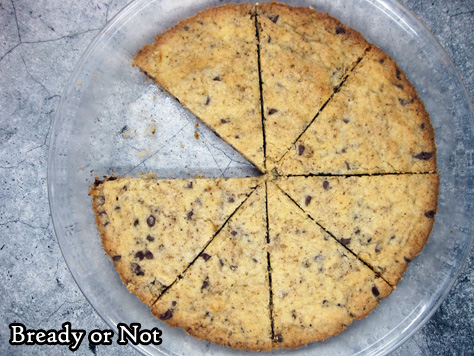 I considered the recipe sacrosanct the past two decades… and then I got an idea. Chocolate. Espresso powder. It had to be good, right? Or would it be a crumbly mess?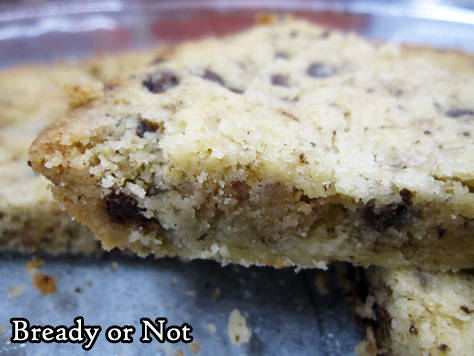 Yes indeed, it turned out to be delicious. No, it remained as cohesive as ever. Yay!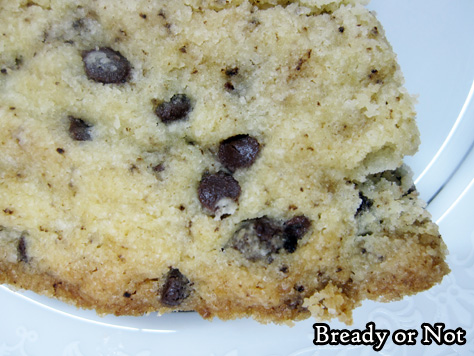 Espresso powder is fantastic along with chocolate; I include it in most every brownie recipe. The coffee flavor doesn't come in strong (I actually hate coffee), but it make the chocolate taste bolder and more nuanced.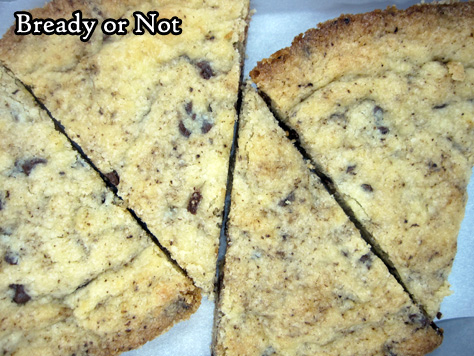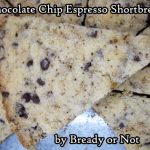 Print Recipe
Bready or Not Original: Chocolate Chip Espresso Shortbread
My original Pride O' Scotland Shortbread, now with additional caffeine! Espresso powder and mini chocolate chips add extra oomph to buttery, tender triangles of shortbread.
Equipment
two basic 9-inch pie plates
Ingredients
2

cups

all-purpose flour

3/4

cups

white sugar

1

teaspoon

espresso powder

1/4

teaspoon

salt

1

cup

unsalted butter

softened, 2 sticks

1

egg yolk

1

teaspoon

vanilla extract

1/2

cup

mini chocolate chips
Instructions
Place flour, sugar, espresso powder, and salt in mixing bowl; add butter, egg yolk, and vanilla. Mix with fingers until dough holds together, then fold in the mini chocolate chips. Once chips are distributed, divide dough into two balls and press each ball into a pan. Flatten evenly with palms and prick surface all over with floured fork. Slash into wedges.

Bake for 17 to 22 minutes, until the edges are golden brown. Remove from oven. Immediately cut again following slash marks and carefully run the blade around the edge of the crust to loosen the shortbread.

Let shortbread cool. Cut again along slash marks and the crust, then remove wedges to eat. Shortbread keeps in sealed container for several days.