To finish off Lemon Month, I present a Lemon Frangipane along with a bonus recipe for Shortcrust Pastry.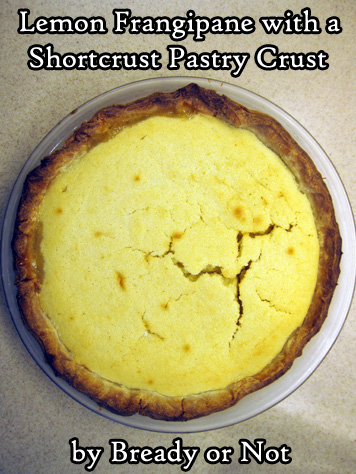 What is frangipane? It's a sweet filling made from almonds. It can be used in cookies, pastries, or–in this case–a shortcrust pie crust.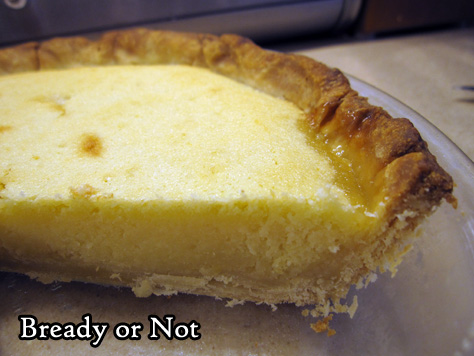 The nutty flavor of frangipane isn't upfront in this recipe. This one is really all about lemony freshness, which happens to complement frangipane nicely.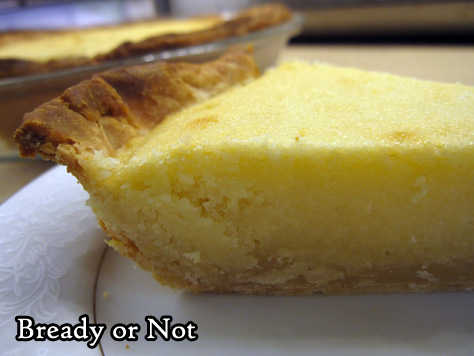 The shortcrust recipe is a good, basic pie crust recipe, one that is doable even for beginning bakers. The dough can be made days or weeks in advance.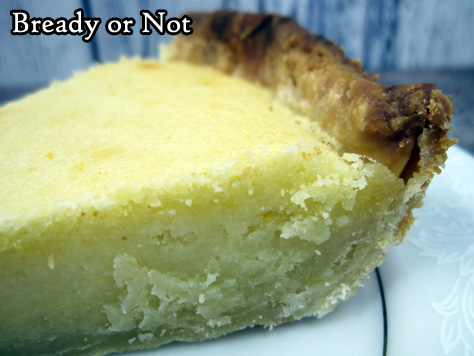 I first encountered frangipane on the Great British Bake Off. Since I associated it with fancy bakes, I was a bit intimidated about trying it myself, but this recipe makes it straightforward.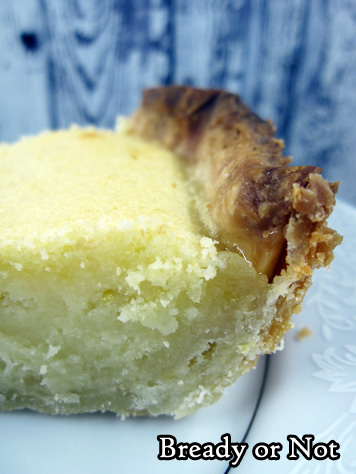 The end result is a lemony fresh frangipane with a crisp, delicious homemade crust. A crust that, thanks to being blind-baked first, should not have a soggy bottom.
Bready or Not Original : Sweet Shortcrust Pastry
This recipe can be made ahead of time and stashed in the freezer for days or weeks, or wrapped up in the fridge for days until ready to be blind-baked. The amount of dough is adequate to fill a 9-inch pie plate (NOT deep dish) or small tart/quiche pan.
Equipment
food scale

parchment paper

pie weights
Ingredients
225

grams

all-purpose flour

4

Tablespoons

confectioners' sugar

150

grams

cold butter

cut into small cubes

1

large egg

beaten

2

Tablespoons

cold water

plus more as needed
Instructions
Mix flour and confectioners' sugar in a large bowl. Add pieces of butter and rub in with fingertips to break into smaller, flatter morsels. Make a well in the middle and add the beaten egg and one tablespoon of water. Use fingers to work in a bit before adding the second tablespoon.

Work dough until it begins to lump together! Drizzle in tiny increments of additional water, if needed, to make it cohesive. The dough should be able to come together in a ball, not gluey.

Wrap dough in plastic wrap and stash in fridge for at least 20 minutes--or for a few days, or freeze until ready to use.

When ready to blind-bake crust, preheat oven at 375-degrees (180 C, Gas 5). Lightly grease pie plate.

Lightly flour work surface. Use rolling pin to roll dough into proper size for your pan, at about 1/2 cm thickness. Gently set dough into dish and press into place. Make sure excessive amounts of dough don't stick out over the edge but do NOT trim exactly to edge yet.

Cover the pastry surface with parchment paper. Use dried beans or other pie weights to completely fill plate. If using a 9-inch pie plate, bake for 20 to 25 minutes, until crust takes on a light golden color; for a smaller plate, reduce time and monitor color.

Use parchment to lift out pie weights. Use a knife to trim excess dough from edge to form a nice, neat line. Follow filling recipe from here on and bake again as necessary.
Bready or Not Original: Lemon Frangipane with Shortcrust Pastry
Frangipane is a European delight that uses ground almonds to make a delicious pastry filling--in this case, a tart that is also full of lemony goodness. This recipe works with a basic 9-inch pie/quiche plate.
Equipment
9-inch shallow pie/quiche plate
Ingredients
1

shortcrust pastry crust

already partially baked

2

Tablespoons

lemon curd

1/2

cup

unsalted butter

1 stick, room temperature

1/2

cup

white sugar

2

eggs

room temperature

1 1/3

cup

ground almonds

sifted

2 1/2

Tablespoons

all-purpose flour

or substitute with extra ground almonds

1

lemon

zested and juiced

1

Tablespoon

lemon juice

4

Tablespoons

milk

or half & half
Instructions
Preheat oven at 375-degrees (190C, Gas 5).

Warm the lemon curd in the microwave for only 5-10 seconds, long enough to make it looser and more spreadable. Brush all over the bottom of the crust.

In a large bowl, cream together butter and sugar until light and fluffy. Beat in eggs, one at a time. Add almond flour, flour, and lemon zest. Follow up with a tablespoon of lemon juice and the milk. Mix until just cohesive.

Pour filling into crust. Bake for 25 minutes, or until it passes the toothpick test in center. If parts of the filling uplift in crazy ways, worry not--it should even out as it cools.

Cool pan for an hour at room temperature for an hour to set. Cut into it then, or chill in fridge to enjoy later. Keep stored in fridge with foil covering.