I present to you my recipe for Nutty Bites. These are a fantastic snack or breakfast.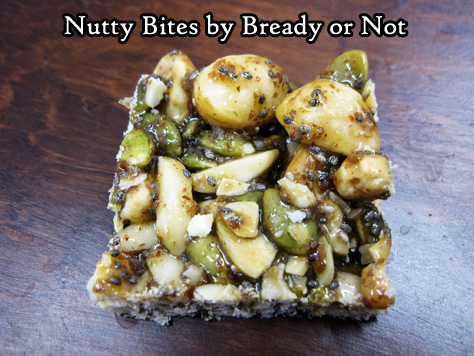 Plus, they are super-healthy, loaded with nuts and seeds, totally gluten-free, with honey as the sweetener and binding agent.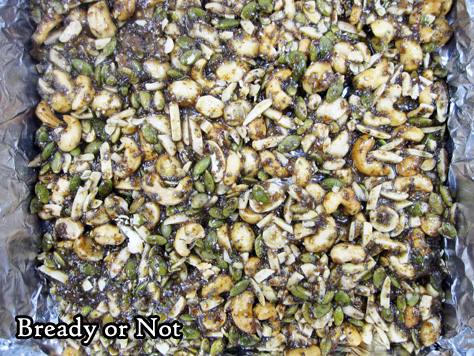 This is an easy recipe to customize, too. Keep the amounts of nuts and seeds the same, but switch in peanuts, hazelnuts, walnuts, wheat germ, sunflower kernels… whatever you like!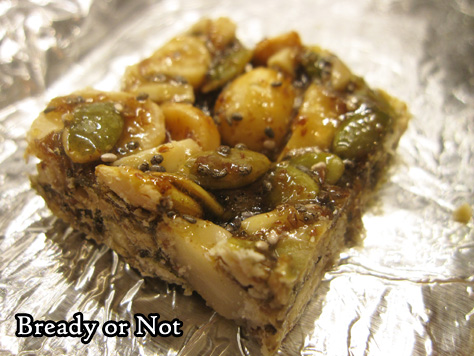 You can toast the nuts first, if you choose. I actually preferred it untoasted. Do note that some smaller add-ins like pepitas can burn quickly, and burned pepitas don't taste that great. (Voice of experience here.)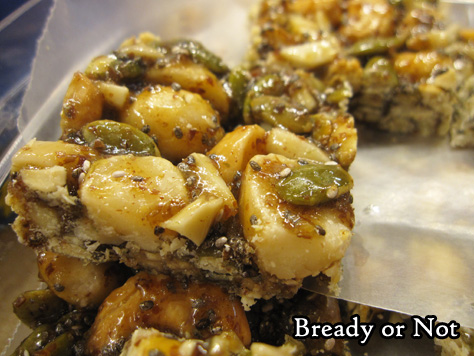 I can report that these keep well in the freezer for at least a month, too. Just make sure to have something like waxed paper between the layers–and even then, in a few spots with heavy honey, the bars might stick.
Oh, and did I mention that this is entirely made on stovetop? No need to heat up the house by turning on the oven! Whip out your candy thermometer and you'll have Nutty Bites ready in no time flat.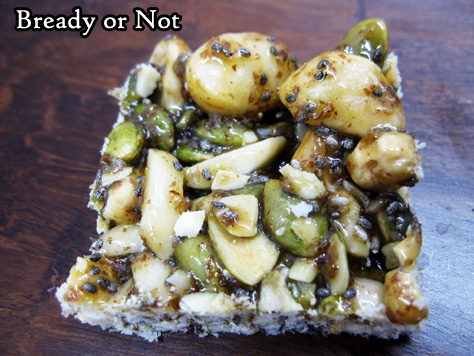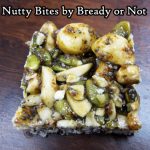 Print Recipe
Bready or Not Original: Nutty Bites
Toast the nuts first if you choose (though watch out, pepitas can burn fast), but untoasted, unsalted nuts offer a nice clean flavor here. Feel free to substitute other nuts or other add-ins (like wheat germ for chia seeds or flaxseed). A candy thermometer is necessary for this recipe.
Ingredients
1/2

cup

macadamia nuts

1/2

cup

pecans

1/2

cup

almonds

1/2

cup

pepitas

1/4

cup

chia seeds

1/4

cup

ground flaxseed

3/4

cup

honey

1/4

cup

water

sprinkle

salt
Instructions
Mix the nuts and seeds together in a large glass or metal bowl. Prepare an 8x8 pan with parchment paper or aluminum foil, and grease well.

Heat the honey and water in a medium saucepan on medium-high. Use a candy thermometer to track the temperature as it rises to 275-degrees (soft crack stage). Stay close to the pan at all times! Once the honey starts boiling, it will bubble excessively, so keep stirring and use great caution.

As soon as it reaches 275-degrees, pour the honey mix over the nuts and seeds. Stir to coat. It will harden quickly, so move fast! Pour everything into the ready pan and press out evenly.

Let set out for an hour. Use a knife or bench knife to chop into squares. Store at room temperature in a sealed container between wax paper layers; they can also be frozen.

OM NOM NOM!