This Pancetta Risotto is a fantastic meal for two people, or a delicious side for a group. It's time-consuming but very straightforward to make.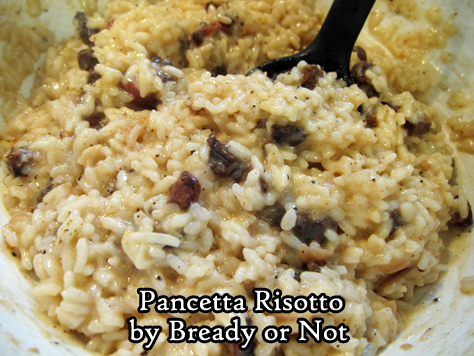 I confess, I spent years being intimidated by the very idea of a risotto. I would see it done on cooking shows. So much stirring! When I finally got up the gumption to give it a try, I found risotto wasn't hard at all. It really is about lots of stirring.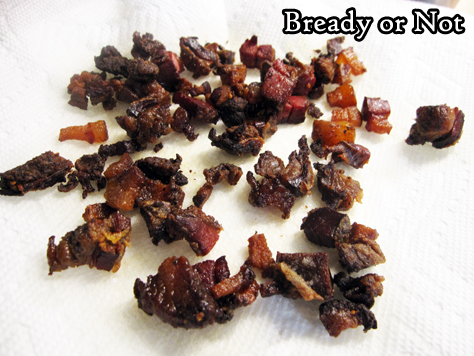 This recipe here is my fancy occasion recipe, especially when I have some good pancetta on hand, such as the kind carried by Smoking Goose Meatery out of Indianapolis.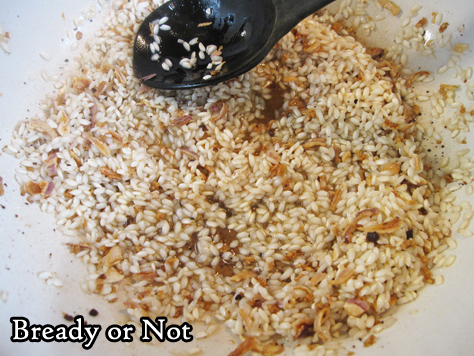 As for the wine, I've tried this with fancier Sauvignon Blanc from Total Wine (Cloudy Bay from New Zealand) as well as a $6 Trader Joe's Coastal Sauvignon Blanc. Both versions turned out great! You don't need to go all-out, but get something that is (hopefully) drinkable with the finished meal.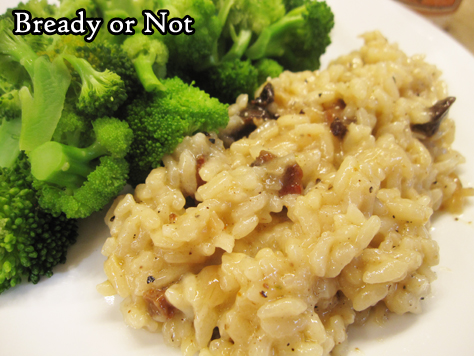 Bready or Not Original: Pancetta Risotto
Homemade risotto requires time standing at the stove, but makes for delicious results. This recipe takes about 45 minutes to an hour to completion, depending on your stove. Note that a small amount of bacon can be substituted for the pancetta, but it is much stronger in flavor and colors the risotto brown.
Equipment
large stock pot

medium saucepan
Ingredients
8

oz

pancetta

diced

1

Tablespoon

dried shallots

or fresh shallot, finely minced

3

cloves

garlic minced

1 1/4

cups

Arborio rice

1

cup

dry white wine

Sauvignon Blanc works well

4

cups

chicken broth

or chicken stock, equal to a 32 oz box or 2 cans

1/2

cup

shredded Parmesan

or Pecorino Romano or Grana Padano, plus more to top rice

salt and pepper

to taste
Instructions
In a large stock pot, cook the pancetta for 10 to 12 minutes, until it starts to turn brown and crispy. At the same time, on another stove burner, use a medium sauce pan to bring the chicken broth to a very low simmer.

Use a slotted spoon to transfer pancetta to a paper towel-lined plate; set aside. Add dry shallots and garlic to the fat in the big pot. Sauté for two minutes. Add the Arborio rice and a pinch of salt. Sauté another 2 minutes, until the rice looks glossy with translucent edges.

Add the white wine and stir until it is absorbed. Add chicken broth in 1/2 cup increments, stirring well after each addition until it is absorbed. After about 12 to 15 minutes, when most of the broth has been added, begin to taste the rice. The goal is a chewy, al dente consistency. Add more broth as needed, and remember to turn off the burner for the broth pot when it is empty.

When the rice is creamy and al dente, stir in the pancetta and cheese. Taste the risotto again, adding more salt and pepper as needed. Serve with the remaining white wine.