This Roasted Lemon Garlic Shrimp recipe makes for a delicious supper! It's super-easy and healthy, too.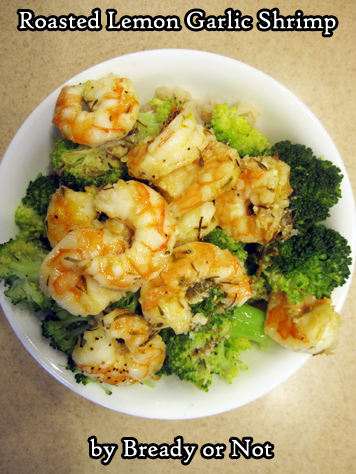 I've made this recipe for about, gosh, ten years now. I make it every month or so. I like to buy 2-pound bags of frozen shrimp of Costco and divide it to make this dish.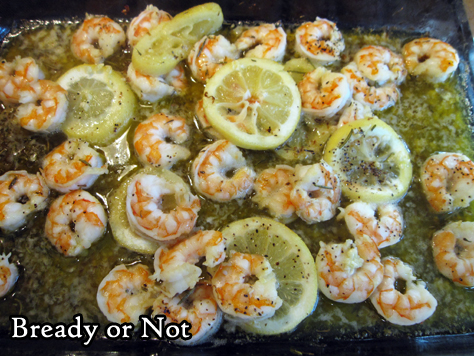 One of the great things about this dish is that you can pair it with different foods depending on your own individual needs. Eat it on rice or egg noodles, or go gluten-free and low-calorie with some zoodles or cauliflower rice. The seasoned oil in this recipe makes everything taste good!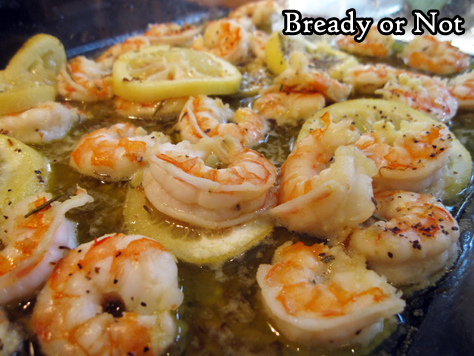 On the side, I usually serve steamed broccoli or green beans. Whatever is in season and on sale!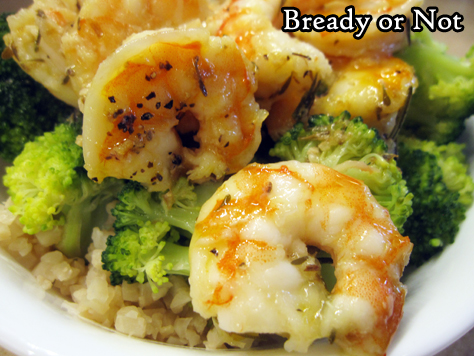 In all the years I've made this, we've never had leftovers.
Bready or Not Original: Roasted Lemon Garlic Shrimp
This healthy supper is fast and delicious. Serve it atop a carb or veggies!
Ingredients
1

medium lemon

1/2

cup

olive oil

or avocado oil

1

teaspoon

dried thyme

1

sprig fresh rosemary

or one teaspoon dry

1

pound

medium-sized shrimp

cooked and deveined

5

garlic cloves

salt and pepper
Instructions
Preheat oven at 400-degrees. Wash and dry the lemon, then zest it; set aside lemon. If using fresh rosemary, shear leaves from the stem. Place zest in 13x9 pan along with olive oil, thyme, and rosemary. Bake pan in oven for 12 minutes.

While the zest is infusing the oil, thinly slice the lemon and remove seeds. If desired, remove tails from shrimp.

Pull out pan. Add shrimp and lemon slices--be wary, oil may pop from the dish! Mince garlic cloves into the pan; gently stir everything. Place back in oven to cook for another 8 to 10 minutes, until shrimp is heated through. Add sprinkle of salt and pepper.

Serve atop pasta, rice, zoodles, cauliflower rice, etcetera. The hot lemon oil is also great for dipping bread.