Last year I shared my recipe for Cookies and Milk Quick Fudge. This new version builds on that with a holiday twist: I used Voortman Bakery's holiday special Snickerdoodles plus caramel chips!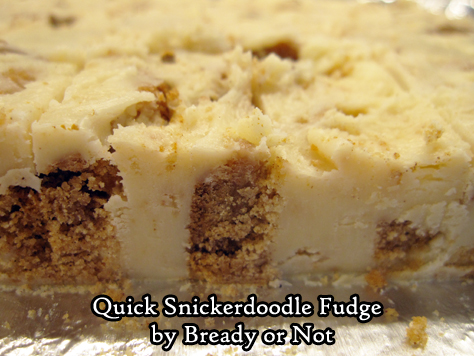 Old-fashioned stovetop fudge is great. It's also fussy, prone to crystallize or not set. Quick fudges are no-fuss and just as delicious.
Any time of year, make this using crisp cookies like many from Keebler. For this holiday take, I used Voortman's Snickerdoodles, but you could also use gingersnaps or other classic favorites and switch out the kind of sweet chips.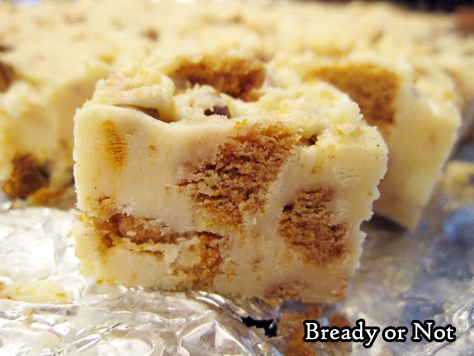 Prep the cookies by chopping up a cup and a half. Freeze those bits; it won't take long. From there, it takes just a few minutes to mix up the fudge.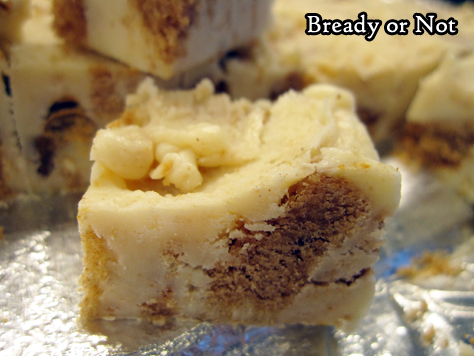 The hardest part is waiting for the fudge to set for the next few hours. This recipe makes a lot of fudge, but it's easy to portion out. Slice it small, and keep it sealed and stored in the fridge!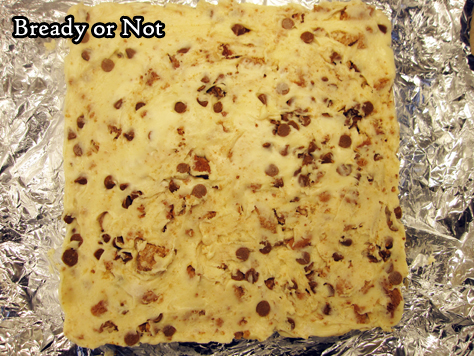 Bready or Not Original: Snickerdoodle Quick Fudge
This quick fudge is fast to prepare and ready to eat after a few hours of chilling. Use any variety of crisp, firm store-bought cookies; Keebler cookies are great year-round, or use holiday cookies as in this version. Chop up the cookies and spread them on a wax paper-covered dish to freeze, which won't take long at all. This recipe makes a lot of fudge, and it can keep for weeks if sealed in the fridge.
Ingredients
1 1/2

cups

store-bought holiday Snickerdoodle cookies

chopped and frozen

3

cups

white chocolate chips

14

ounces

sweetened condensed milk

1/3

cup

caramel chips
Instructions
Line an 8×8 or 9×9 pan with foil and apply nonstick spray. Set aside.

In a large microwave-safe bowl, heat the white chocolate and sweetened condensed milk in 30 second increments, stirring well after each bout, until it is melted and smoothed. Watch it closely!

Quickly stir in the frozen cookies, and pour into the prepared pan. Sprinkle caramel chips on top and tap them into place.

Refrigerate at least 2 hours. Use foil to lift fudge onto a cutting board to slice into small squares. Store in a sealed container in the fridge. Keeps for weeks.