These Spiced Maple Macadamia Nut Cookies mix maple sweetness and warm spices and chocolate with the wonderful crunch of macadamias. They are perfect for fall–and throughout the year.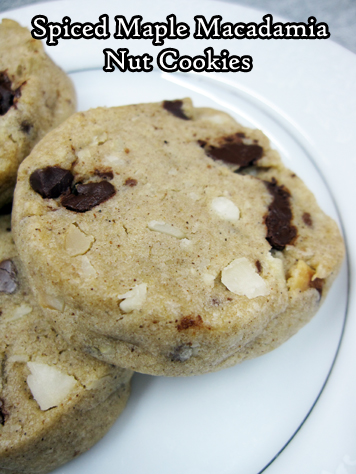 A food processor will be a big help in this recipe. The nuts and chocolate need to be in fine slivers. If the chunks are too big, the sliced cookies won't be cohesive.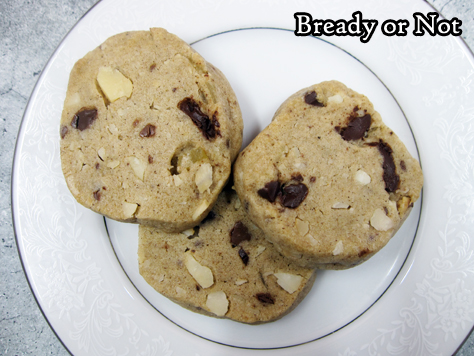 These are fridge cookies. Form the dough into tube shapes, wrap up well, then stash them in the fridge or freezer. Then thaw, slice, and bake when you need cookies.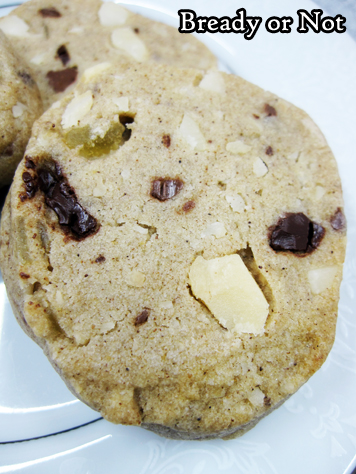 If you do the full batch at once, you'll likely get a lot of cookies, depending on your tube size and how you slice them. I got about 70 cookies.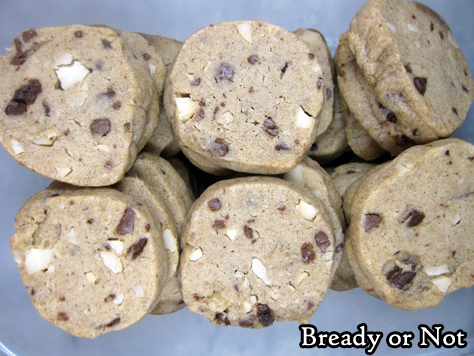 These are perfect cookies to warm up your belly on a cool autumn or winter night (or in Arizona, to make-believe in such a temperature shift).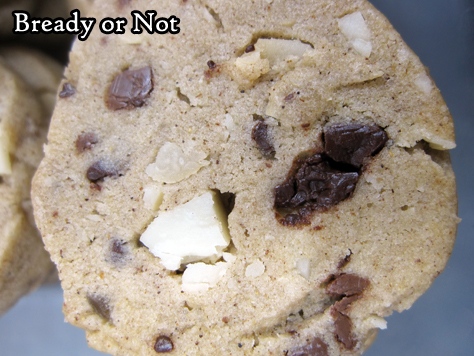 Bready or Not Original: Spiced Maple Macadamia Nut Cookies
These sliced cookies are a delightful blend of sweet maple and warm spices with added nuance from chocolate and crunchy macadamias. Mix up the dough and stash in the fridge or freezer for future baking! Makes about 70 cookies.
Ingredients
1 1/2

cups

unsalted butter

3 sticks, room temperature

1/2

cup

white sugar

3/4

cup

real maple syrup

4

cups

all-purpose flour

3

teaspoons

ground ginger

3

teaspoons

ground cinnamon

1

teaspoon

allspice

1/2

teaspoon

ground cloves

1

teaspoon

salt

1 1/2

teaspoons

baking soda

1

cup

macadamia nuts

3/4

cup

chocolate chips semisweet

or dark or mixture

1/3

cup

candied ginger

finely chopped
Instructions
In a food processor or by knife, finely chop macadamia nuts, followed by the chocolate chips. Set aside. (If these are not in fine pieces, the dough will fall apart when sliced.)

In a large bowl, cream together butter and sugar until light and fluffy. Beat in maple syrup.

In a separate bowl, stir together the flour, spices, salt, and baking soda. Gradually work this into the creamed mixture. Fold in the nuts, chocolate, and candied ginger until incorporated.

Divide dough in half and shape into foot-long logs. Encase in plastic wrap. Chill at least two hours, or freeze for later baking.

Preheat oven at 350-degrees. Unwrap log and cut dough into 1/4-inch thick medallions, reshaping with fingers as needed. Place spaced out on parchment-covered cookie sheet.

Bake for 10 to 12 minutes, until set with a firm, golden base. Cool on pan for 5 minutes then move to rack to completely cool.

Cookies keep for at least 3 days in sealed containers at room temperature.