Homemade Peanut Butter Chocolate Chip Granola is delicious and oh-so-much cheaper than buying the pre-made stuff from the store.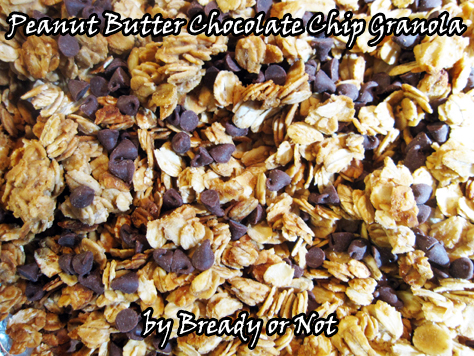 My son is autistic and has a very limited diet. With the help of feeding therapy, we have gradually introduced him to new foods and new combinations of textures. He has eaten yogurt for years, and it turned out he really liked the addition of granola on top.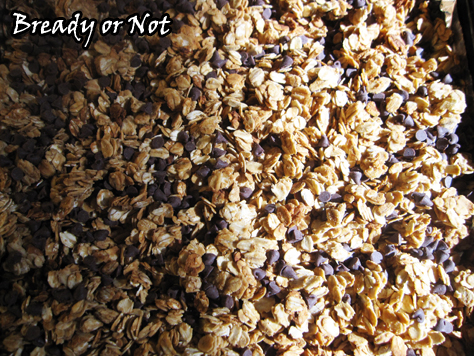 Me being me, I saw the prices of granola at the store and decided I'd start making it myself. My son loves peanut butter and chocolate, so I knew that it'd be a great combo for him.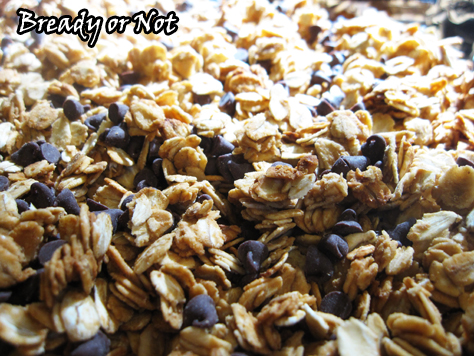 When I didn't see an existing recipe that I liked, I decided to make my own. This is the result.
This granola is quick to mix together and quick to bake, too. Just be careful to NOT overbake. It's easy to do, since it's hard to tell how crisp the granola will get after you remove it from the oven.
If you eat gluten-free, use GF oats and check your other ingredients!
Print Recipe
Bready or Not Original: Peanut Butter Chocolate Chip Granola
A Bready or Not Original! Make your own granola for cheap with a few basic ingredients. Eat by itself, with milk, or as a topping for yogurt or pudding. This is an easy recipe to make gluten-free, too.
Ingredients
2 1/2

cups

old fashioned rolled oats

1/4

cup

creamy peanut butter

1/4

cup

honey

1

teaspoon

vanilla extract

1/3

cup

mini chocolate chips
Instructions
Preheat oven at 275-degrees. Line a large, rimmed cookie sheet with aluminum foil and rub with butter or apply nonstick spray.

Place the oats in a large bowl. In a small bowl, microwave the peanut butter and honey for 30 seconds; the peanut butter should be starting to melt. Stir them together, then add vanilla extract.

Pour the peanut butter mix over the oats; stir until the oats are completely coated. Spread the granola on the foil-lined sheet and bake for 15 minutes. Stir. Bake for another 10 to 15 minutes, then set out to cool. Note that it will continue to crisp up as it cools, so don't overbake!

Once the granola is cool, mix in the chocolate chips. Store in a sealed container.

OM NOM NOM!