These brownies are what happened after I bought a box of Cookies & Crème Pop Tarts for my son. He didn't like them.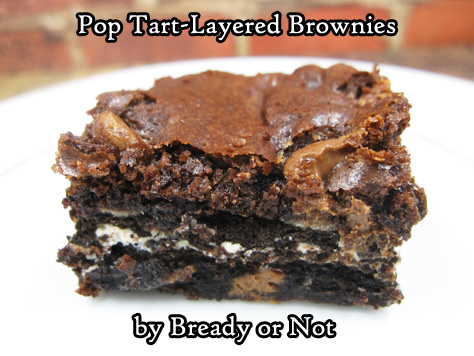 Well, darn. I can't eat them myself. I didn't want them wallowing in my pantry forever.
Therefore, I decided to use up the remaining packets by baking them into brownies. The layered technique works out well with Oreos, after all!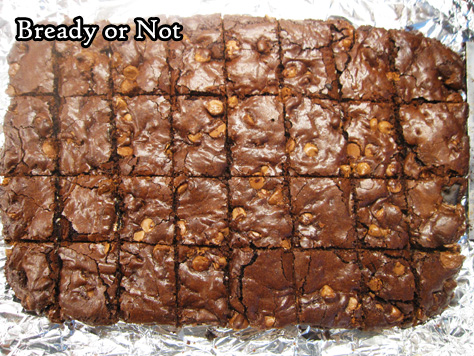 Turns out, Pop Tarts are fantastic baked into brownies. They are thinner than Oreos, and meld more with the surrounding dough. The mild Oreo-like taste still shines through.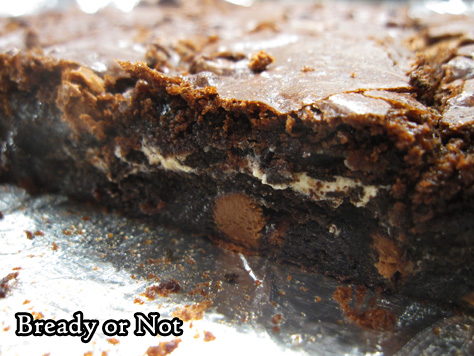 Plus, the resulting brownie isn't quite as dense. Just in case you aren't in the mood for brick-like brownies.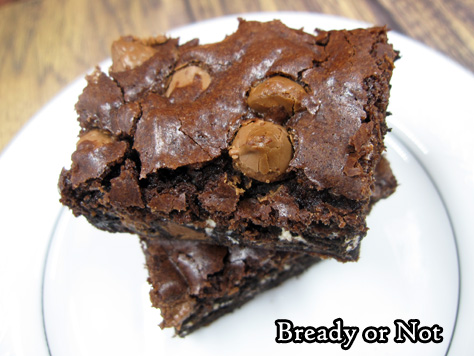 The original recipe is from King Arthur Flour. I rewrote it and added in the Pop Tarts and chocolate chips (because, why not?!).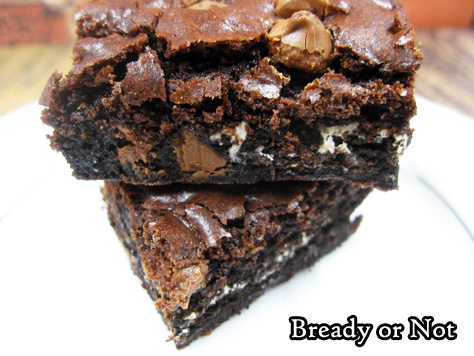 I've only done the recipe with Cookies & Crème Pop Tarts, but I think this technique would be great with all kinds of Pop Tarts–try strawberry (frosted or not), or Peanut Butter, or Smores.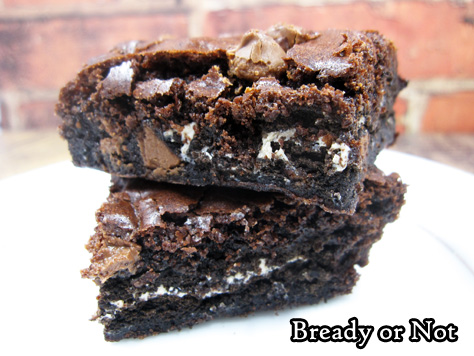 Plus, then you can tell people you had Pop Tarts for breakfast, and no one has to know it was encased in a brownie.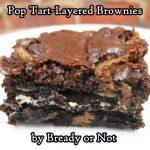 Print Recipe
Bready or Not: Pop Tart-Layered Brownies
Layer Pop Tarts into a casserole dish-sized helping of brownies for a delicious change! Cookies & Crème results in a mild Oreo-like flavor, but try out other varieties, too.
Ingredients
1

cup

all-purpose flour

3/4

cup

cocoa powder

sifted

2

cups

white sugar

1/4

teaspoon

salt

1

teaspoon

espresso powder

optional but awesome

3

large eggs

room temperature

1/2

cup

unsalted butter

melted

1/4

cup

vegetable oil

2

teaspoons

vanilla extract

1

cup

semisweet chocolate chips

or milk chocolate

3

packets

Cookies & Creme Pop Tarts

or other variety, 6 total pieces
Instructions
Preheat oven at 350-degrees. Line a 9x13 pan with parchment paper or foil, and grease with butter or apply nonstick spray.

Stir together, in order, all of the ingredients up to the Pop Tarts. Dollop about half the dough in the prepared pan, and try to spread out as evenly as possible; the dough will be thick. Layer the Pop Tarts over the dough, breaking pieces as necessary to fit. Dollop the rest of the dough on top, and again, smooth out as much as possible.

Bake brownies for 25 to 30 minutes, until the middle passes the toothpick test. Cool completely before lifting the brownies onto a cutting board to slice up.

Store in a sealed container at room temperature, or freeze to make them last longer.

OM NOM NOM!